All business owners want more website traffic, more customers, and more sales.
It doesn't have to be difficult, though, as one of the keys to business growth and success is customer feedback.
Customer feedback is more than just what customers have to say.
It's now the most important online resource, helping businesses to build credible reputations, dominate the search engines, and uplift sales.
But getting customer feedback alone isn't enough – not if you want your business to stand out from the rest.
You need to utilize this customer feedback to take full advantage of the benefits it can offer, such as improving SEO, boosting consumer trust, and driving more conversions.
How? Here are the 3 most important tips you need to grow your business using customer feedback.
How To Utilize Customer Feedback To Grow Your Business?
Share Your Customer Feedback
Has your business received positive customer feedback recently? That's great.
And we mean that – because getting customer feedback, let alone positive feedback, isn't easy.
But now you need to share it.
Consumers want to see other consumers' feedback; they want to know whether your products or services live up to what your website says they are, and customer feedback provides that social proof.
Effective places to share customer feedback include social media and your website.
In fact, your website is actually where you need to share it, as customer feedback endorsing your products and services will support the claims you've made on your website.
You need to share your customer feedback correctly, though.
And by this, we mean using the best practices and strategically placing feedback throughout your website.
Avoid sharing customer feedback without linking it, and never share a customer's feedback without asking their permission first.
Testimonials should be genuine, to the point, and visually appealing.
As for reviews, these should be showcased using a powerful reviews widget.
Reply To Your Customer Feedback
Do you actively reply to your customers' feedback? If not, you're missing out on a host of benefits.
Replying to customer feedback—such as customer reviews—will improve your online reputation, enhance your relationships with customers, and help your business climb local search rankings.
Not convinced? Google outright states that replying to customer feedback will improve local search engine rankings.
On top of that, customers trust a business more if it replies to its customer reviews.
It's simple: responding to customer reviews shows that your business cares for its customers.
It shows that your business cares about what they have to say—positive and negative—and are listening to their opinions to keep track of exactly where your business is excelling or falling short of the mark.
But replying and listening doesn't cut it. You also need to act on your customer feedback, which swiftly leads us onto the next section.
Act On Your Customer Feedback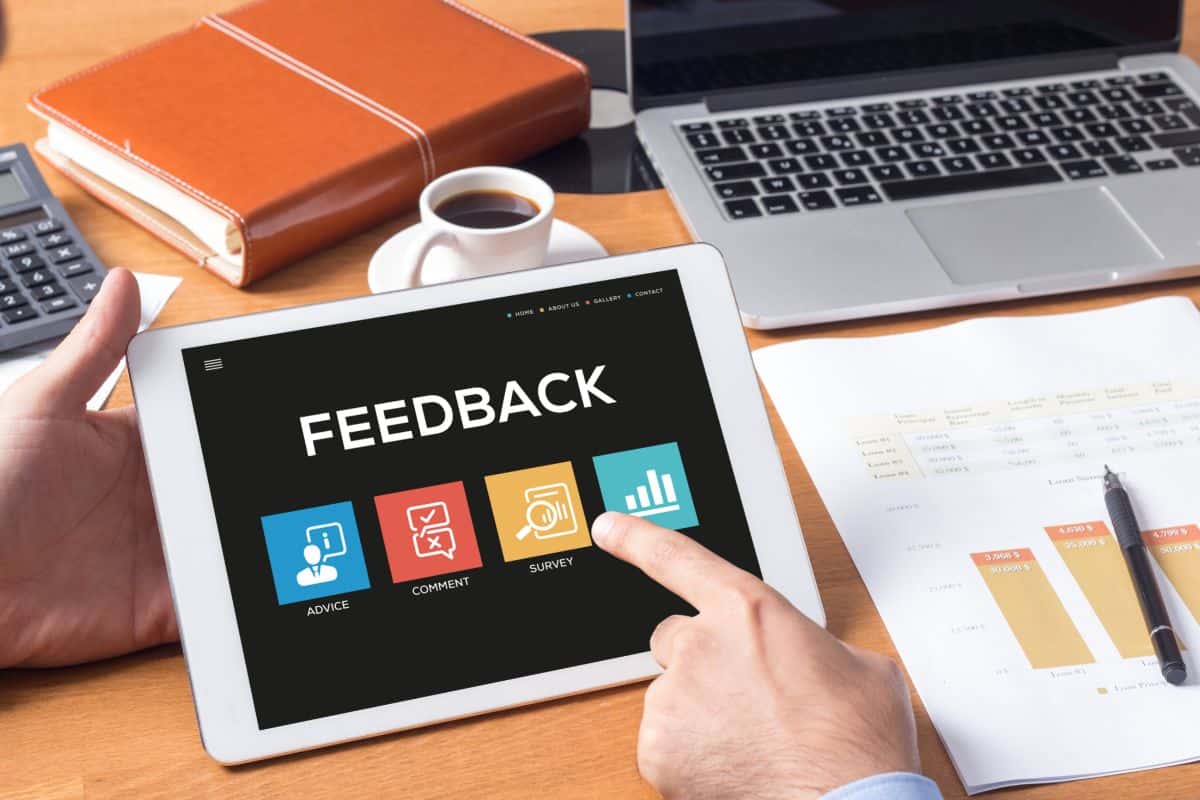 Negative customer feedback might knock you down, but it's the businesses who take customer feedback to heart that see real growth.
Listening to customer feedback and acting on it are two different things.
The big difference is that the latter involves taking direct action to fix problem areas.
How does this help business growth?
Making the effort to fix areas of your business that customers aren't satisfied with is likely going to benefit new customers down the line.
This can generate more positive customer feedback for your business.
This can also turn an unsatisfied customer into a satisfied customer – for example, an unsatisfied customer who later becomes impressed that you took their negative feedback, or another customer's negative feedback, on board and took action to fix it.
This kind of attention to customers is what builds loyal customer relationships and an online reputation that can help your business outshine its competitors.
It's going above and beyond for the customer – and it's what customers want to see.
You Can't Grow Your Business If You Don't Receive Customer Feedback
The above tips are proven techniques for using customer feedback to grow your business.
But there is one thing—the most important thing—that we are yet to touch on: getting customer feedback itself.
It goes without saying that you won't be able to take advantage of customer feedback if, well… you're not receiving customer feedback in the first place.
And if you have been running a business for a while, you will know all too well how difficult, and time-consuming, it is to get feedback from your customers.
There are many ways you can encourage more reviews from your customers, some of which you may have tried already – such as review request emails, social media posts, store banners, and in-person requests.
Whether or not these successfully met your expectations is another matter.
But there is an easier way to get more customer feedback, you'll be glad to know, and, as a result, grow your business.
We call it ReputationStacker.
You can't share customer feedback, reply to customer feedback, or act on customer feedback if your business is not receiving customer feedback on a regular basis.
It's frustrating, we know. Especially if you have done everything you can to try and get more reviews from your customers.
But that's why we created ReputationStacker – a tool that streamlines the review process to make getting reviews simple.
And the fact it's so simple is what makes it effective.
Using powerful automation, ReputationStacker handles all the hard work of requesting reviews from customers for you.
The result? A consistent stream of reviews, and a growing online reputation that feeds itself. Let
After all, more reviews means more sales, and therefore even more customer reviews, which will grow your online reputation and improve SEO.
Get started with a free trial and start seeing what ReputationStacker can do for your business.