In today's consumer era, whether a consumer trusts your business or not is the difference between earning a sale and losing out to a more trustworthy competitor.
Earning trust & attaining a sale have become almost synonymous in the world of online buying.
Your business needs to gain a customer's trust to gain a sale, which means your business needs to proactively look after its online reputation.
And to do this effectively, your business needs a strategy.
Developing an online reputation strategy is the key to building trust around your brand.
It's managing how customers perceive your business – a level of online self-awareness that will help your business stand out from the competition.
With that said, let's look at why consumers care about your online reputation and the online reputation strategies you need to increase consumer trust.
Why Consumers Care About Online Reputation
Consumers are paying attention to how your business interacts with its customers and, more importantly, what customers are saying about your business.
This is your online reputation in a nutshell. And since the rise of the internet, online reputation management has become crucial for businesses.
So why do consumers care?
The answer lies in the buyer's journey – the buyer's decision process. It starts with a consumer recognizing a need or wants before conducting online research to find the product or service that best serves their need.
And it's this stage—the information search stage—that determines what product or service the consumer ends up buying as well as the business they buy from.
What you need to know is that consumers aren't just looking for the best products and services; they're looking for businesses they can trust. And to earn their trust, you need an online reputation management strategy.
8 Online Reputation Strategies To Increase Consumer Trust
1. Establish Your Brand Values
It becomes much easier to manage your online reputation when you know what your business advocates. These brand values are the bedrock for how your business treats its customers, which online consumers will notice.
Brand values can be anything from transparency or sustainable business practices to something as straightforward as "the customer is always right."
Once you have established your brand values, your business needs to communicate them to customers – both in words and by how it conducts business. In other words, your business shouldn't just talk the talk but walk the walk.
The fact is that belief-driven buying is on the rise. 77% of consumers buy from brands that share their values, so businesses need to know their values and champion them online.
2. Get Active On Social Media
If your business isn't taking advantage of social media, it's missing out on a wealth of marketing potential.
At the heart of this is customer interaction, which is a major factor determining how customers perceive your business online.
It's, therefore, essential to get active on social media.
This includes establishing a presence on different platforms, creating engaging content, sharing user-generated content, and responding to comments wherever possible.
Platforms like Facebook and Instagram even have dedicated services for small businesses.
On Facebook, for example, you can sell your products through Facebook Shops and get Facebook reviews to help bolster your online reputation.
4.7 billion people around the world now use social media. So if you want to extend your audience reach, getting your business on social media is a no-brainer.
3. Encourage User-Generated Content
User-generated content (UGC) is any online content shared about your business, typically created by unpaid customers.
Prime examples of this include social media posts, social media comments, and online reviews.
What's important to know is that praiseful user-generated content is free marketing for your business.
It can also serve as powerful social proof to support your product descriptions, customer promises, and brand values.
And for that reason, it's not only vital to share user-generated content, but encourage it.
You can do this by creating interactive social media posts, responding to all online feedback, and requesting reviews from customers.
But don't just encourage user-generated content; keep your ear to the ground for what your customers have to say.
Social listening can provide valuable insights into your customers' wants and needs, helping you to fine-tune and improve what you have to offer.
4. Take Control Of Negative Feedback
The internet has transformed marketing and selling for the better. But there is one downside: it's become harder than ever before to ignore negative feedback.
Negative customer feedback can damage a business's reputation – or, at the least, discourage a customer from using a business altogether.
Negative feedback hasn't just become hard to ignore; it's become inevitable. But despite that, you shouldn't ignore it.
It might feel like the end when you receive a public online review that drags your business through the mud. But it's possible to take control of negative feedback—and your reputation overall—by simply responding professionally.
In fact, you might be glad to know that a third of customers reverse negative reviews when a business responds. 83% of customers also feel more loyal to brands that respond to and resolve their complaints.
75% of businesses don't respond to negative reviews. But that's where they miss out, as responding to reviews demonstrates care and concern – two qualities that can reduce the damage of negative feedback and maintain your reputation.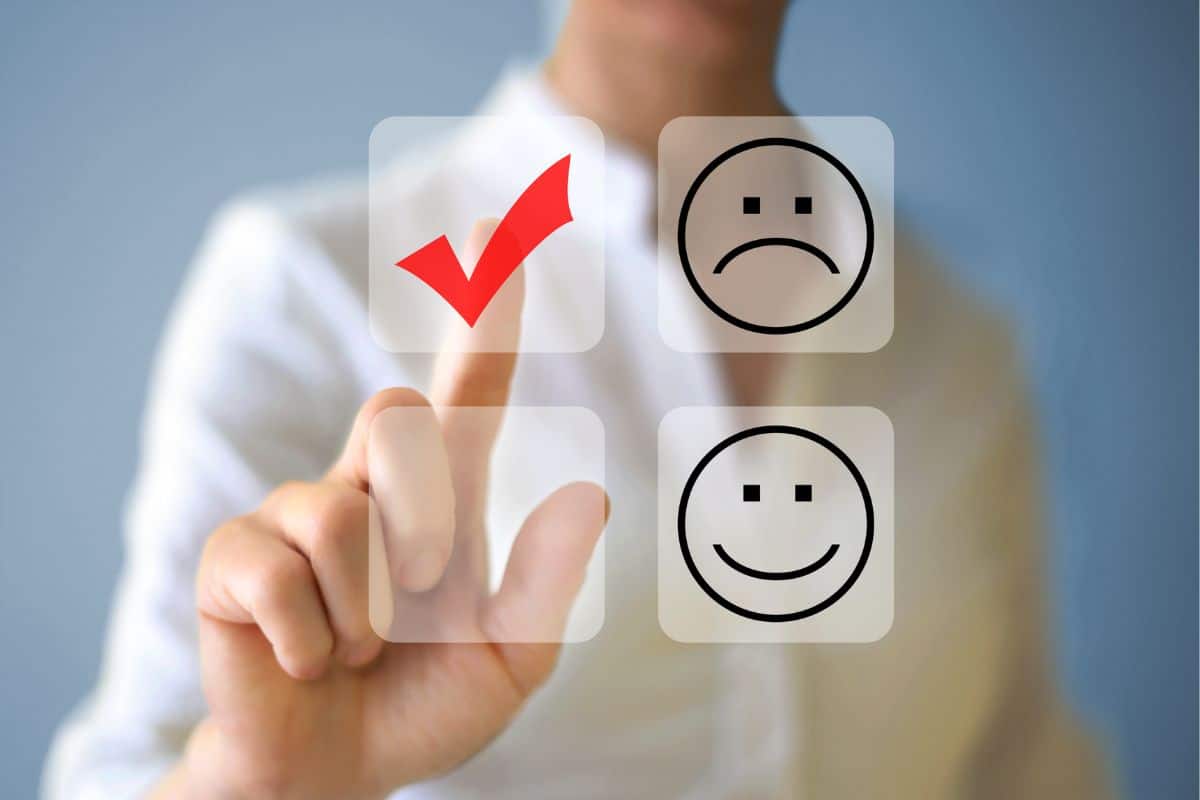 5. Start Thinking About Content Mapping
Content mapping is a strategy for feeding your customers the right information at the right time to guide them along the buyer decision process.
Examples include incorporating storytelling marketing on your website, creating landing pages, designing an email marketing funnel, and posting social media content that encourages clicks to your products and services.
It, therefore, requires you to put yourself in the shoes of your customers, asking important questions such as:
What content will persuade a customer to visit my website?
What content will make a customer trust my product descriptions?
What content will lead the customer to the checkout process?
Content mapping ties into online reputation because it's a strategy that helps shape what customers think and feel at each stage of the buyer's journey.
Customers want to trust your business before buying (it's the reason they carry out research, after all), so your business needs to assist them.
6. Include Testimonials On Your Website
Your website might market and describe your products and services as industry-leading, reliable, or of high quality. These might be true, but consumers need more than that to be able to take your word for it.
That's where customer testimonials come in – a form of social proof that you can strategically include on your website to inspire trust and confidence in your products, services, and business as a whole.
Testimonials come in different forms: written customer endorsements, video reviews, before and after photos, case studies, and media coverage.
And when displayed alongside your products or business description, testimonials serve as evidence to reinforce your claims and customer promises – improving how customers view your reputation in the process.
7. Integrate Storytelling Into Your Content
Storytelling marketing, briefly mentioned above, is an online reputation strategy focused on presenting customers with inspiring stories about your brand.
Storytelling can influence purchase decisions and also serve as social proof of your good reputation.
So what stories can you tell your customers? Storytelling content can include:
Customer success stories (including testimonials)
Business success stories
Employee stories
Your business's story, including failures and successes
What's effective about storytelling marketing content is that it's engaging and inspiring for consumers.
And being inspired by the success or satisfaction of other customers can be a powerful encouragement for them to try your products and services.
Storytelling also makes your business more authentic and transparent, which can help consumers better understand, as well as relate to, your history, business beliefs, and relationship with customers.
8. Manage Your Online Reviews
Last but not least: reviews. Online reviews are the modern building blocks for online success, as what your customers say about your business on the internet will make or break your business's reputation.
93% of consumers read online reviews before buying a product, and 92% of consumers will hesitate to buy something if it has no customer reviews at all.
What these key stats point to is that your business needs to have reviews for customers to look at.
Customers want to read reviews before committing to a purchase and will hesitate at the sight of no reviews.
So your business needs to get reviews. But it's not just about getting reviews, but managing and leveraging reviews to improve your online reputation.
This involves establishing an online presence on multiple review platforms, responding to customer reviews (positive and negative), and sharing reviews on your website and social media pages for your audience to see.
Customer Reviews Are The Key To A Trustworthy Online Reputation
Customer reviews are everywhere online. E-commerce sites, such as Amazon, put product reviews in plain sight, and search engines pull customer reviews from one site or another for any business-related search query.
In a sea of online content, what online reviews provide consumers is trust – the confidence that a business will deliver on its promises.
And if a business doesn't inspire trust through its reviews, consumers will keep searching until they find another business that does.
This makes reviews the single most important resource for your business's online reputation.
Factor in how reviews can provide valuable customer feedback, produce engaging content (such as testimonials) and improve SEO, and there's simply no end of benefits to receiving reviews from your customers.
Unfortunately, you can't reap the benefits of online reviews without having reviews in the first place. And to get reviews also requires an effective strategy.
Get More Reviews – The Most Effective Online Reputation Strategy
By getting more reviews, you build your online reputation as a direct result. This, above all, makes getting more customer reviews the best online reputation strategy to increase consumer trust.
This leaves one final question: How to get more reviews? And the answer is simpler than you probably think.
Using powerful automation and an effective review funnel that encourages customers to write reviews, ReputationStacker makes it easier than ever for your business to build an impressive online reputation on multiple platforms.
It works for Google, Yelp, Facebook, TripAdvisor, and other major review platforms that your business needs to establish an authoritative presence on.
Of course, you still need the above online reputation strategies to increase consumer trust, but ReputationStacker simply takes care of the hardest part for you: getting more online reviews.