Did you know that online reviews help your business climb local search engine rankings?
Google cares about online reviews more than you might think, which makes leveraging reviews essential for your business.
Customer reviews have become unavoidable over the last decade. High star ratings are now synonymous with trust, and virtually any consumer search query displays a snapshot of reviews from one site or another.
And it's deliberate. Consumers want to see reviews to know which brands to trust, so Google isn't going to deny them that.
For your business, this makes it important to get reviews online to climb the search engine ladder, engage customers, and increase sales.
But quantity isn't all Google cares about; quality is just as important when it comes to online reviews, and we've listed the reasons why below.
Why Online Reviews Matter To Google: 5 Key Reasons
1. Reviews Are Trustworthy
The sheer wealth of information on the internet can make it hard to know what's credible and what isn't. But for consumers, customer reviews are as trustworthy as online information gets.
Google looks for reviews for the same reason consumers do: trust. Customers look to other customers with first-hand experience for buying guidance, so Google gives them what they need to see.
So, ultimately, customer reviews offer information that's trustworthy for consumers shopping for products or services.
And while Google constantly changes the way it indexes content and ranks websites, one thing has stayed the same and is likely not to change: Google trusts reviews as informative, relevant content that consumers want to see.
2. Reviews Can Help Off-Page SEO
Off-page SEO is online content that helps your business rank higher on search engine results pages, despite being third-party to your website.
This includes social media content and customer reviews on third-party review platforms.
So Google trusts third-party reviews as much as Google reviews. Sure, Google is the top review site on the internet, but collecting reviews on other review platforms is going to boost your search engine visibility.
Examples of third-party review sites include Yelp reviews and Facebook reviews. And the good thing about Facebook and Yelp is that they frequently rank on page one for business-related searches.
So if your business is active on these sites (by receiving reviews and regularly updating business information), your Yelp and Facebook pages can appear in Google search results that are relevant to your business.
3. Reviews Can Help On-Page SEO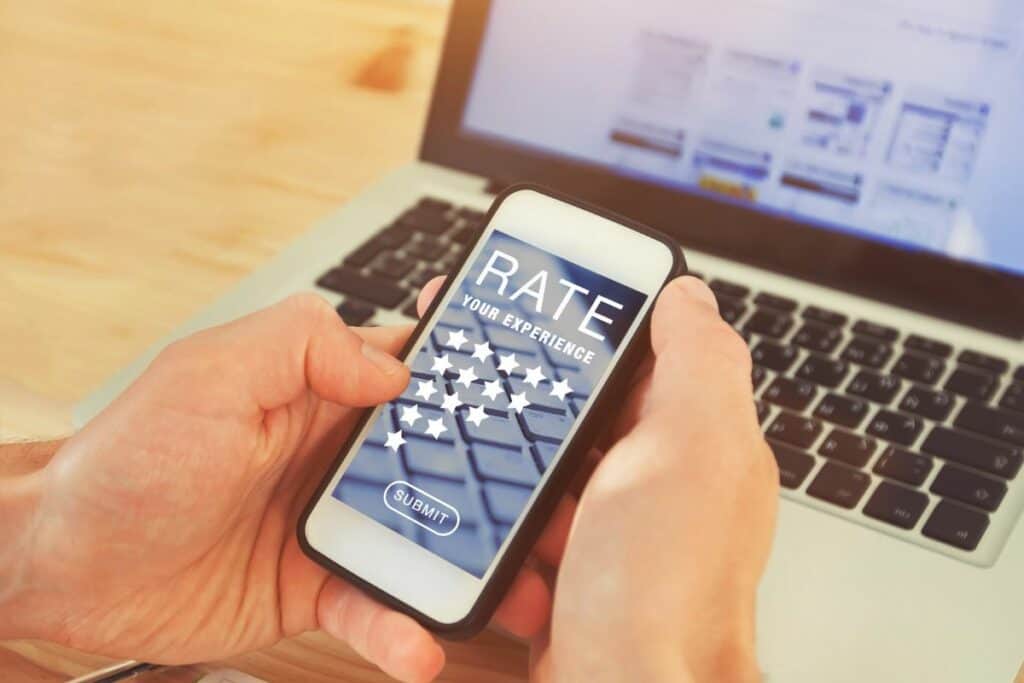 Reviews you get on third-party websites can be embedded on your website. This helps with on-page SEO, which Google also uses to rank websites.
A few examples of on-page SEO include keywords, images, videos, site speed, website layout, and content quality. Google takes these into account whenever it crawls and indexes website content before scoring the website and ranking it against relevant search terms.
And one thing Google likes to see is new and engaging website content. Even optimizing old content can improve website visibility.
For this reason, a tactic such as simple as embedding reviews on your website is an easy way to improve on-page SEO, as a good reviews widget will automatically pull in new reviews for Google to recognize and new website visitors to see.
4. Google Looks For Relevance And Authority
Gone are the days when businesses could rank highly on Google by keyword-stuffing their websites. Keywords still play a big role in SEO, but what Google makes a bigger effort to look for now are relevance and authority.
Google determines relevance by how honest and informative a website's content is while authority is determined by trustworthiness, i.e., through high-quality link building and other relevant sources of credibility – such as review websites.
At the heart of these SEO ranking factors is value. Like any business, Google wants to give value to its users, so providing high-quality, honest, and informative content in search results is paramount (or else no one would use Google).
And if you read the above, it will go without saying that reviews qualify as valuable content that can benefit your website's relevance and authority. If your business has impressive online reviews, Google will notice this and consider your website valuable.
5. Google Reviews Will Help You Rank Higher
Needless to say, Google cares about Google reviews. Google recognizes Google Business Profiles with credible customer reviews and high star ratings, ranking these businesses higher in the SERPs whenever relevant search terms are made.
What's more, Google also improves local SEO rankings for businesses that proactively respond to their customers' Google reviews.
For businesses, this makes managing Google reviews vital for climbing the search engine results pages.
But this doesn't mean you should prioritize reviews on Google; collecting reviews and responding to reviews on other platforms is just as important to Google, as well as consumers looking for businesses with good all-around online reputations.
The Best Way To Request Reviews
No matter how many customers your business deals with on a regular basis, the thought of sending review requests to each customer is likely already enough to make you huff with exhaustion.
Factor in review site links and follow-up requests, and your plate can quickly become too much to handle.
Unfortunately, requesting reviews is by far the most effective way to get more reviews for your business. It can be made easier, however, and the solution is to let automation do the heavy lifting for you.
Using automation, you can send your review request message to customers automatically without lifting a finger. But why stop there? With a tool like ReputationStacker, the entire review request process gets taken care of for you from start to finish.
You won't need to come up with an effective review request message, create review request links, or worry about professional email design. ReputationStacker does it all for you, using a tried-and-tested approach for email and SMS that encourages customers to write reviews.
Google cares about online reviews, and so do your customers. Your business needs reviews to inspire trust, and it's as simple as letting ReputationStacker help your business get more reviews.
The Bottom Line: Businesses Needs to Get More Reviews
The takeaway is clear. Google wants to see that your business has online reviews – and not just Google reviews, but new and honest reviews on different online review platforms.
To put it bluntly, your business needs to get more reviews – even if your business already receives regular reviews.
Getting more reviews from your customers won't just help your business rank higher on Google but improve your online reputation in the process. And in today's competitive online market, a good online reputation is your digital banner of trust.
We've mentioned trust a few times now, and it's simply because trust sells. Consumers need to trust a business before buying from them, and reviews are a reliable source of online information that consumers trust the most.
It makes sense; customers trust other customers with first-hand experience of a business, product, or service, so they look to reviews to build the trust and confidence they need before purchasing a product or service.
For your business, this alone makes it more important than ever to leverage customer reviews to build trust around your brand.
And to get more reviews, you need to request reviews from your customers.