So you have collected some testimonials from customers and clients. The next step is putting them on your website.
There are two important things you want your website testimonials to do: grab attention and support your claims effectively.
Achieving this will increase customer conversions. But to do those two things, you need to use testimonials strategically.
And for tips and inspiration, this guide has you covered.
Below, we've listed 5 examples of testimonials on websites – all using techniques that are proven to be effective.
5 Examples Of Testimonials On Websites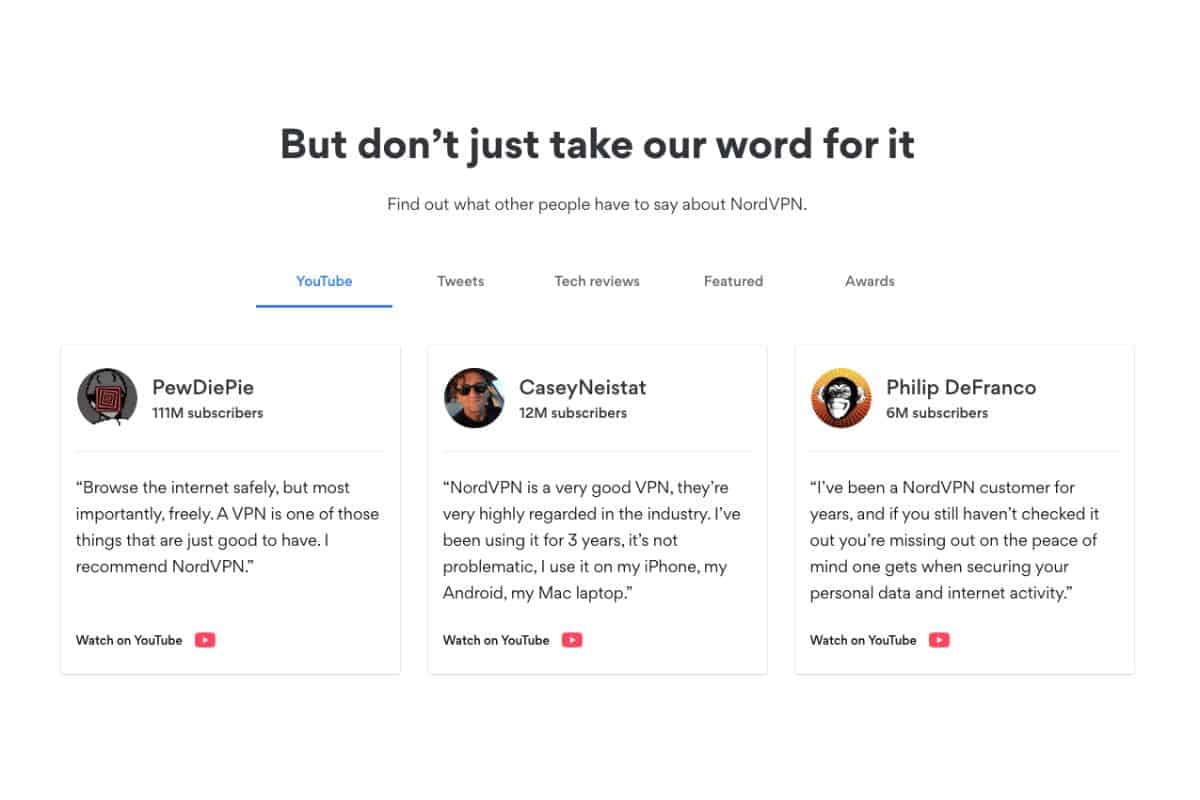 Your website copy might be powerfully worded and favorably descriptive of your products or services.
But don't expect all your website visitors to take your word for it.
NordVPN knows this. And that's why the popular VPN service introduces its testimonials section with:
"But don't just take our word for it… Find out what other people have to say about NordVPN".
The testimonials are displayed right on the homepage, following the benefits and features of NordVPN.
As a result, the testimonials back up the claims immediately.
NordVPN has also made use of various types of testimonials—video testimonials (YouTube), social media testimonials (Tweets), case studies (Tech reviews), media features (Featured), and awards—but presented in a way that's not taking up too much page space.
So even without clicking through all the testimonials, website visitors already get the idea that NordVPN is highly endorsed.
This is an impressive use of testimonials, needless to say, inspiring real trust that will turn browsing visitors into paying customers.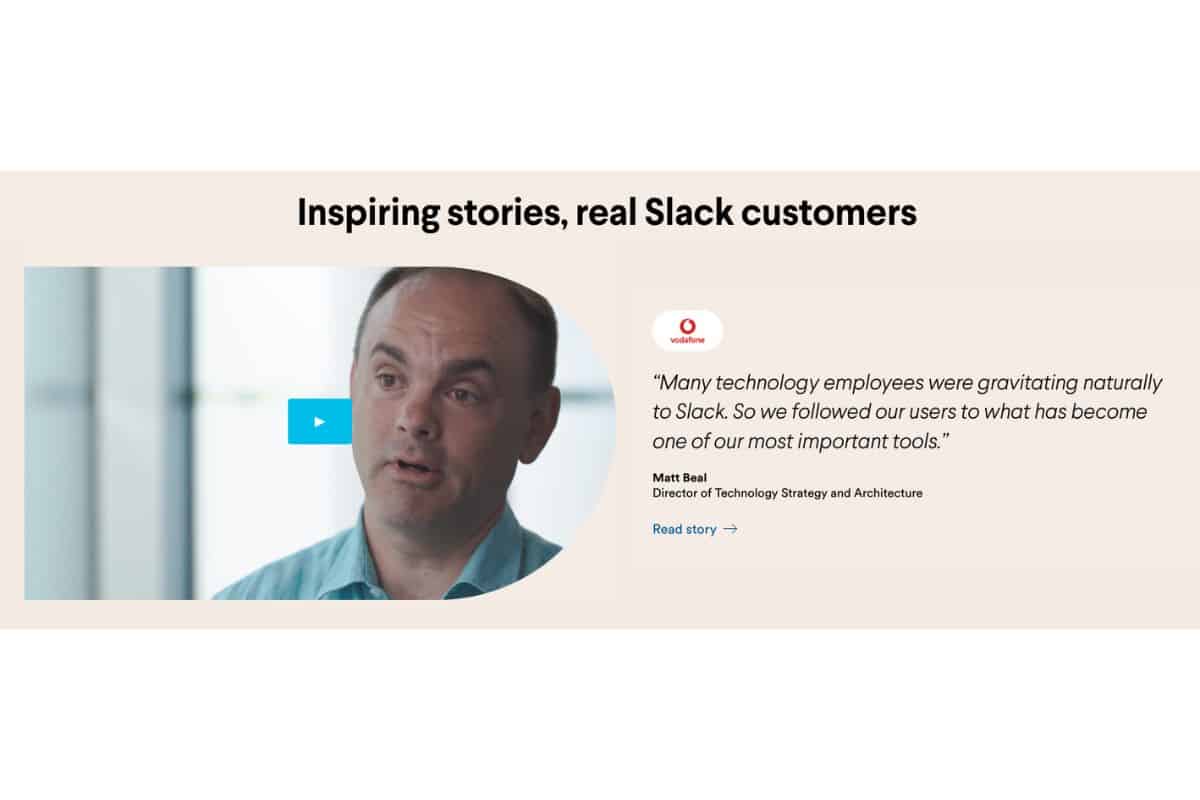 Slack, the popular workplace program, has a page dedicated to testimonials from clients and businesses that trust its service.
What's effective here is that the page features a slider of three impressive client testimonials (Vodafone, Deliveroo, and Zendesk), followed by countless success stories from other high-profile brands that have endorsed and partnered up with Slack.
Slack has checked off several boxes here: the testimonials are visually engaging (two are video testimonials), shortly worded (yet clickable should visitors want to read more), and supported by the client's name, occupation, and company logo.
Video testimonials, in particular, are highly effective at inspiring trust and confidence.
For one, this type of testimonial provides more information in an engaging format.
Video testimonials are also more credible, as it shows the customer was willing to put in more effort to endorse the business.
In this example, by leveraging powerful video testimonials and success stories from household-name companies, it should go without saying that business owners checking out Slack for the first time will be quickly convinced.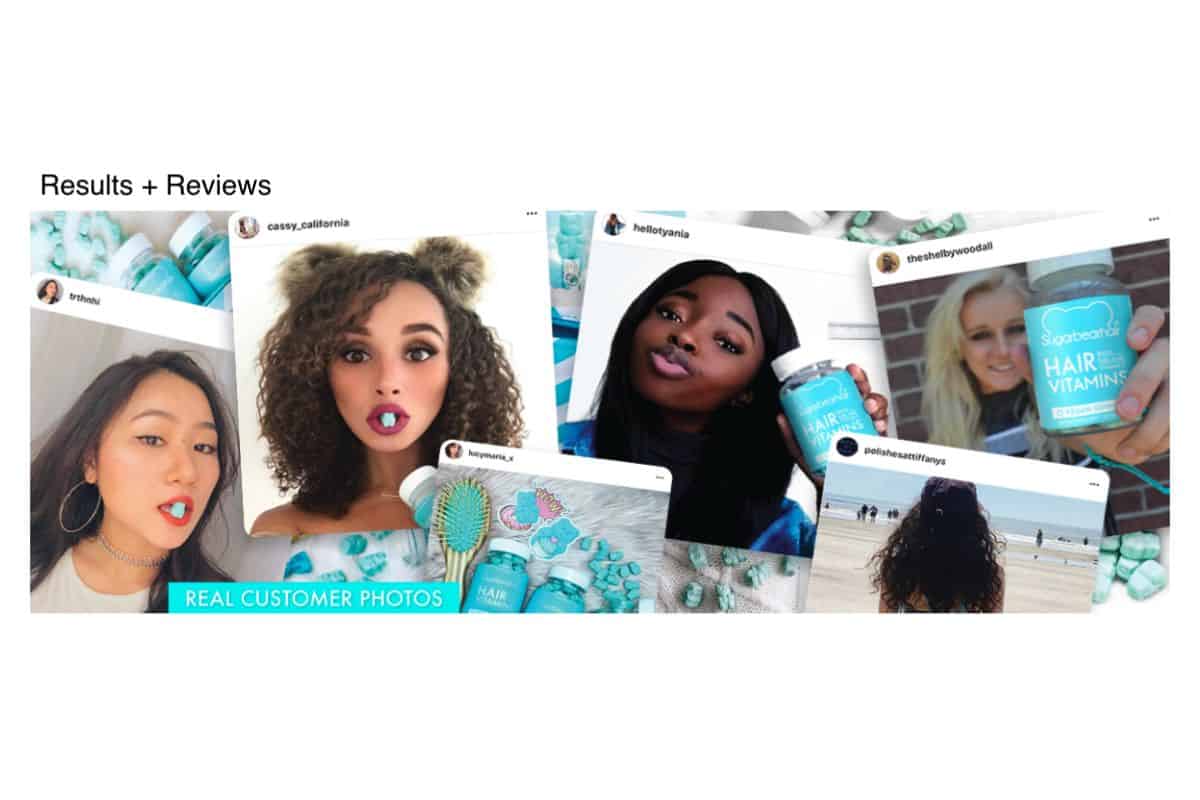 If you don't know Sugarbear, it's a brand of hair supplements that found viral success through social media.
Famous celebrities and social media influencers (from the likes of Kim Kardashian, Kylie Jenner, and Vanessa Hudgens) endorsed the product on Instagram, resulting in a wave of inspired user-generated content that sky-rocketed Sugarbear's sales.
This is a prime example of the power of social media marketing.
And on its Results + Reviews page, Sugarbear takes full advantage of its social media endorsements as website testimonials that deliver one message: the product works.
This goes to show that customer reviews and social media endorsements are just as effective as generating trust and confidence in on-the-fence customers.
Sugarbear even showcases this feedback alongside three simple yet powerful statistics, making the product more convincing to new customers.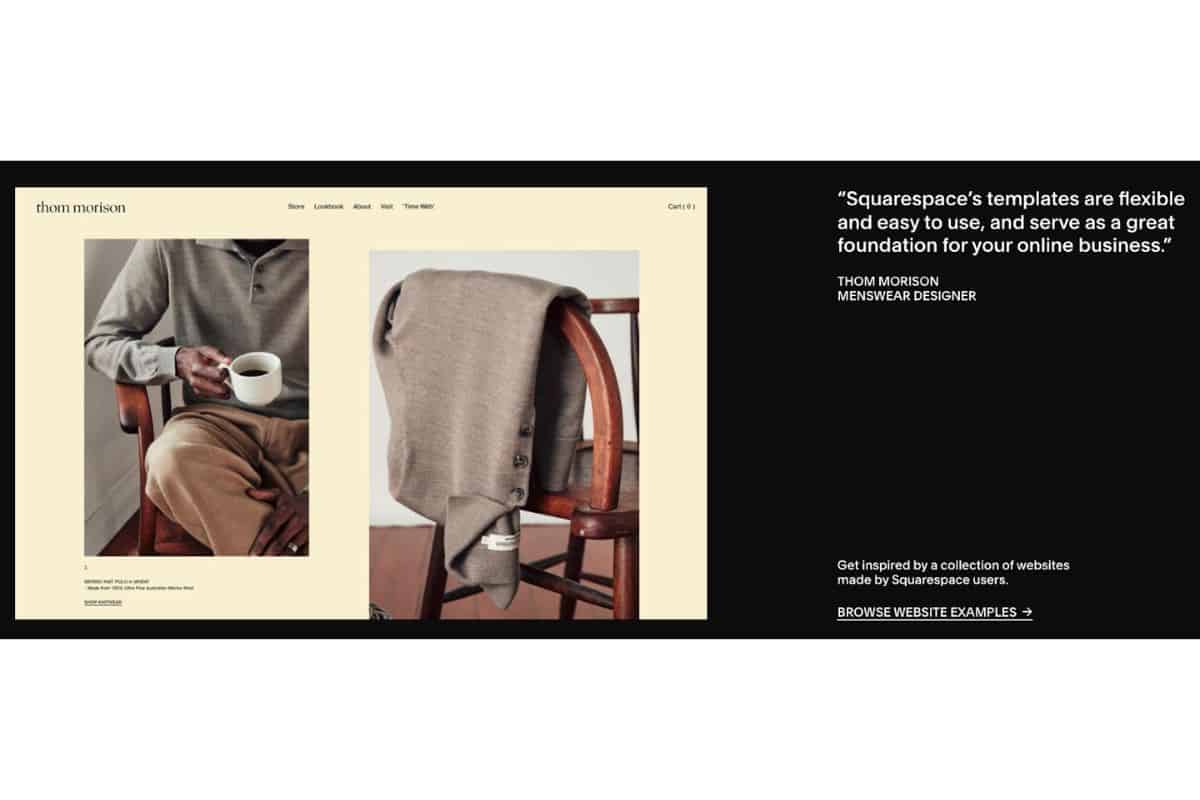 Image testimonials are just as effective as any other type of testimonial – especially when used to show off the end product.
Squarespace, the widely used website creation and web hosting platform, has done exactly that on its homepage.
In this example, the testimonial is an image of a professionally designed website created using Squarespace accompanied by a short written testimonial from the user.
The user's name is provided for legitimacy, along with the user's occupation (Menswear Designer) to evoke a sense of success.
Should website visitors want to view more, Squarespace has also provided a simple link within the same section to avoid cluttering the page with testimonials.
In fact, there is only one testimonial on the Squarespace homepage. So in this case, it's an effective example of "less is more".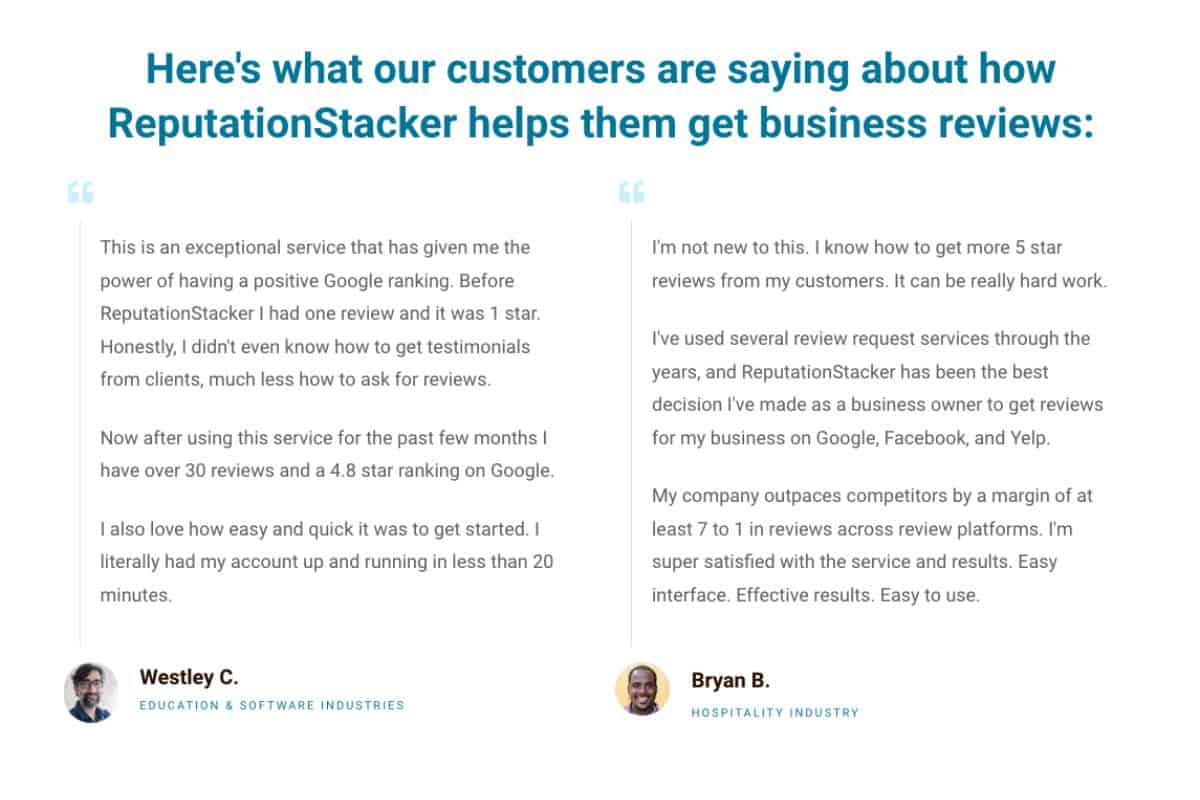 Customer success stories don't have to be long – or even full case studies from clients.
It's possible for testimonials to tell a short story without taking too much web page space or time to read.
And that's exactly how we've incorporated testimonials on our homepage.
At ReputationStacker, we know that new customers trust other customers over what a business says.
That's also why we help businesses get more reviews.
And to inspire that trust, our homepage showcases short success stories from two of our loyal clients.
With their permission, we have accompanied their testimonials with their name, industry, and photo – simple but effective touches that increase authenticity.
What we have done slightly differently, however, is include customer reviews on the same page.
Reviews are just as effective as customer testimonials, and can be embedded on any page to deliver the same powerful benefits: improving trust, boosting website engagement, and increasing sales.
What's also great about reviews is that collecting them makes it easier to collect testimonials.
This makes it important that your business doesn't only leverage testimonials, but customer reviews.
Get More Reviews, Get More Testimonials
You can't take inspiration from the above examples if you don't have testimonials to use.
This is why it's important to get more reviews – because it's a proven method to find customers who have positive things to say about your business.
You also need reviews to improve your business, grow your online reputation, increase your search engine authority, and more.
The problem is how to get more reviews as, let's face it, getting customers reviews isn't easy.
But if you read our testimonials above, you'll know what we do at ReputationStacker. And our service works.
Businesses around the world get more reviews using our hands-off, fully automated tool that increases positive reviews while reducing the chance of receiving negative reviews.
The tool can also effortlessly embed positive reviews on websites, delivering the same proven benefits of testimonials.
But don't just take our word for it. Check out what real businesses are saying about ReputationStacker.