Online reviews have a huge influence on customers in more ways than one. But can reviews really increase conversions?
It's an important question for business owners because knowing all the ways browsing customers can be turned into paying customers is vital for increasing sales, revenue, and success.
And the simple answer is yes - reviews, especially positive reviews, increase conversion.
In fact, reviews can boost conversions in several ways, both directly and indirectly.
Online reviews are more powerful than you might think.
Below, we have listed all the reasons why reviews have the power to increase customer conversions - all of which are important to know.
Reviews Influence The Buyer Decision Process
It goes without saying that positive reviews will make your business appear more trustworthy and authentic.
Customers want to know their money is being well-spent, and positive reviews give them the assurance that your business delivers.
Good reviews are proof of your good service, posted by real customers with first-hand experience.
For prospective customers checking out your business, this generates trust, which is key to guiding them along the buyer decision process.
In addition to building trust, reviews—positive or negative—can also provide vital information for customers who are on the fence about a product or service.
A review might mention details that an unsure customer wants to know and can't find anywhere else.
And this, which is another part of the buyer decision process, can be the final push in persuading them to make a purchase, resulting in a sale.
Reviews Are Opportunities To Show Your Business Cares
If you are not doing so already, your business should be actively replying to customer reviews - if not all of them, as many as manageably possible.
Replying to reviews shows that your business cares for its customers and values all opinions.
It displays approachability and transparency, which can increase customer trust and, as a result, influence their decision to purchase what you have to offer.
In fact, research shows that 89% of consumers read replies to reviews, and are highly or fairly likely to use a business that responds to all its online reviews.
In one scenario, a customer may be interested in a product or service you offer, but is comparing your business with a competitor to make sure they are making the best choice.
The customer sees similar ratings and reviews, except that your business is replying to reviews, while the other is not.
In most cases, the customer will likely choose your business because your business is presenting itself as caring and communicative.
This can also work in your favor if your replies are more professional. Needless to say, this can lead to improving conversions.
Reviews Improve SEO And Reach
It's true: positive reviews improve SEO visibility and general online reach, which will make your business easier to be seen and found across search engines, review sites, and social media platforms.
Positive Google reviews and positive Yelp reviews improve your business' search engine ranking, and positive Facebook reviews increase the chances of your business being promoted in the News Feeds of other users.
In addition, positive reviews will help you climb rankings within review sites, such as Yelp and TripAdvisor, when consumers use these review sites to search for local businesses within an industry or area.
So the more visible and searchable your business is—due to having a high number of positive reviews—the more customers you will reach, which is going to increase customer conversions.
Reviews Improve Your Review Rating
Your review site rating is like a badge of certification. No matter the review site, it always sends one clear message: whether or not your business delivers on its promises.
In fact, your business star rating is one of the first things a customer will see when searching for your business on any search engine.
Even prior to customers reading your reviews, your star rating is there to see in plain sight at the top of all your review pages.
A high star rating is beneficial for a number of reasons:
A high star rating is eye-catching and clickable
A high star rating can help you to outshine competitors
A high star rating (on Google and Yelp) makes your business more SEO-friendly
A high star rating improves business rankings within review sites
A high star rating on Facebook will improve Facebook reach
Star ratings are generated by all the customer reviews you have collected on that specific review platform.
And considering all the benefits that come from having a high star rating, this is yet another reason why reviews will boost conversions.
Reviews Can Help Your Business To Improve
This might already be obvious to you, but customer reviews can help your business improve its service.
Positive or negative, it's important to remember that reviews are not just resources, but real-life feedback that you should be leveraging to evaluate where your business is excelling and underperforming.
Knowing where your business needs improvement is the solution to identifying the fix.
Negative reviews can highlight problem areas and, if taken on board and resolved, both your business and your customers will benefit on the whole.
Of course, providing the best service you possibly can will result in happier customers.
Happy customers are more likely to post positive reviews, and this means reaping all the benefits that reviews have to offer, including increasing conversions.
Get More Reviews To Increase Conversions
The takeaway is clear: receiving positive reviews is a major factor in increasing conversions, no matter whether your business operates online or offline.
Still, to generate the most conversions, your business needs to have a high number of good reviews in the first place.
And not only that, but a steady stream of new and genuine positive reviews across all the top review sites.
How do you get more reviews? The answer lies in how you request reviews from your customers.
Manually requesting reviews is time-consuming and, because of that, off-putting for many businesses.
But that's why thousands of businesses have turned to ReputationStacker as the most effective hands-off solution for getting more reviews.
ReputationStacker works by automating the review process to increase your reviews across Google, Yelp, Facebook, and more.
Putting it simply, boosting conversions has never been easier. And, to add to that, getting your business set up with ReputationStacker is just as easy.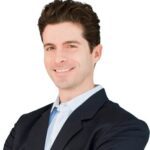 Ian Kirby has been working in digital marketing for over 15 years. Having worked both with and for digital marketing agencies and in-house with multiple companies, he has a specific interest and expertise in online reputation management, online reviews, and the implementation of business systems. Ian's writing, videos, and interviews have garnered millions of reads, views, and listens.