So you've collected several website-ready testimonials endorsing your business and its products and services.
But using them effectively on your website is the next step that you need to consider carefully.
Putting too many testimonials on your website can come across as desperate.
On the other hand, using poorly written testimonials, or putting testimonials on website pages where they won't be seen, will reduce their effectiveness.
This makes it important that your business uses customer testimonials correctly.
After all, you need new customers to see them and, as a result, be influenced by the trust and confidence that you want your testimonials to inspire.
To help you out, we've provided 20 amazing examples of businesses using customer testimonials the right way.
Take note as these are the best examples of how to use testimonials effectively!
Website Customer Testimonials: 20 Amazing Examples to Inspire Your Business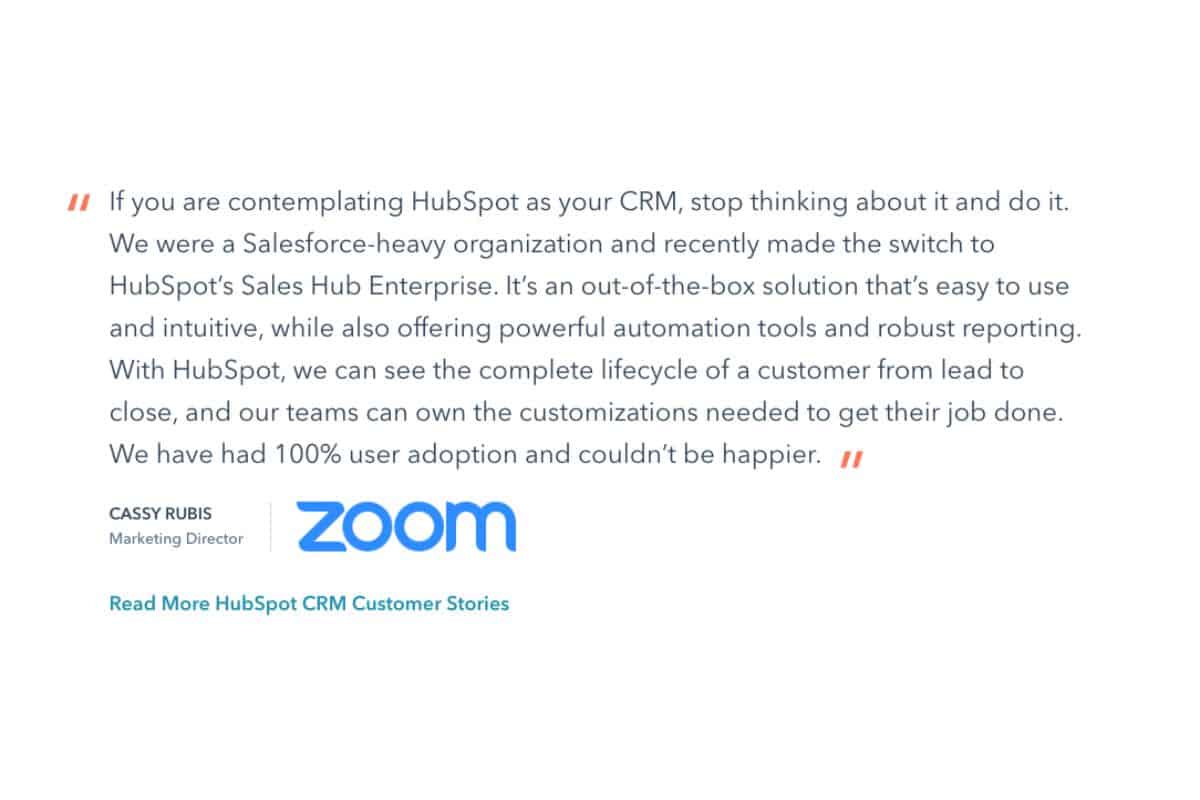 Most tech-savvy professionals know Hubspot: the CRM software company with hundreds of thousands of users.
Hubspot's popularity hasn't stopped the company from including customer testimonials on its website, however, and business owners should take note!
Hubspot has a dedicated page for customer reviews and testimonials, where it cites real customers with impressive backgrounds in the digital marketing industry.
The testimonials are powerfully worded and accompanied by the customer's name, profession, and company for greater persuasive factor. 
For software, in particular, testimonials are almost vital.
New customers want to feel confident that the software will deliver, so Hubspot has done all the right things here by providing a dedicated page on its website that inspires that trust.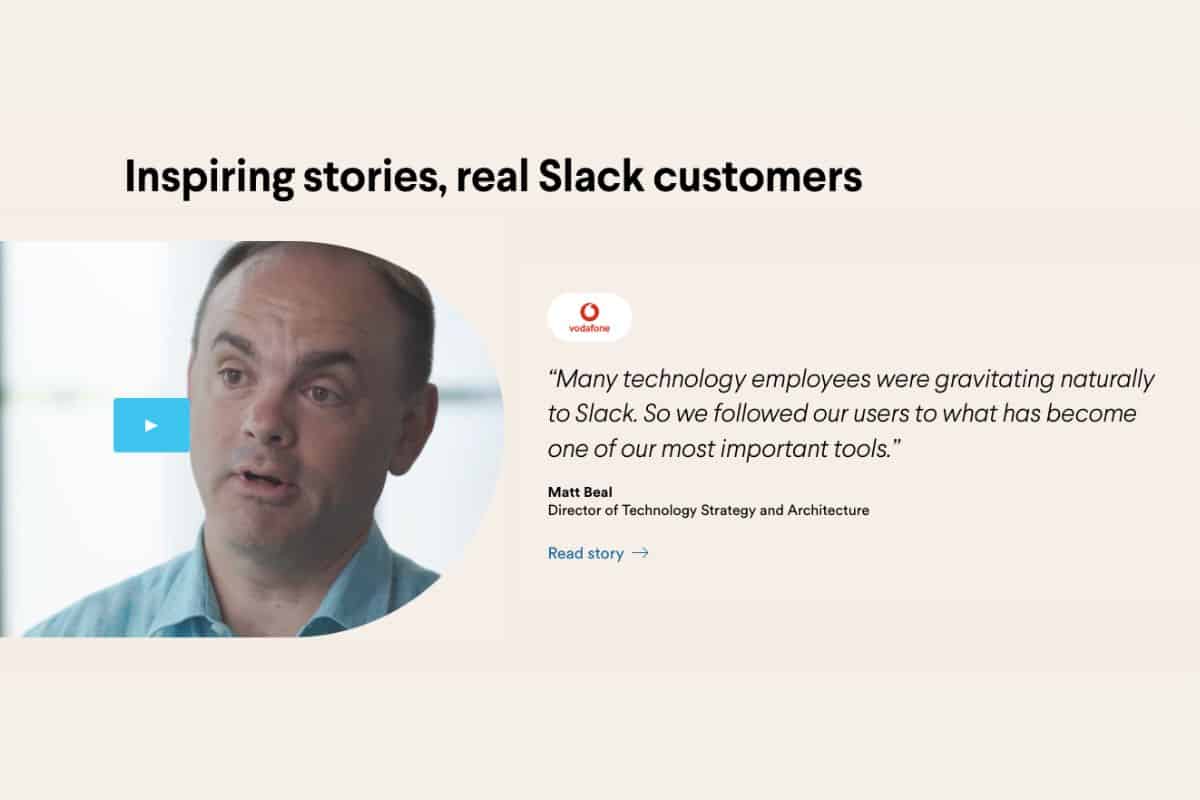 Slack is one of the most popular workplace messaging services around.
It accommodates businesses of all sizes, so the company must provide business owners with the confidence that its chat software doesn't fail and, as a result, won't reduce workflow productivity.
Like Hubspot, Slack has a website page dedicated to "Inspiring stories" from "real Slack customers".
The testimonials include the name of the customer and profession, along with full customer stories that double as short case studies. 
Slack has taken things further, in addition, by incorporating professionally shot video testimonials.
Not only can this type of media content improve SEO, but be generally more engaging for potential customers looking to try the product.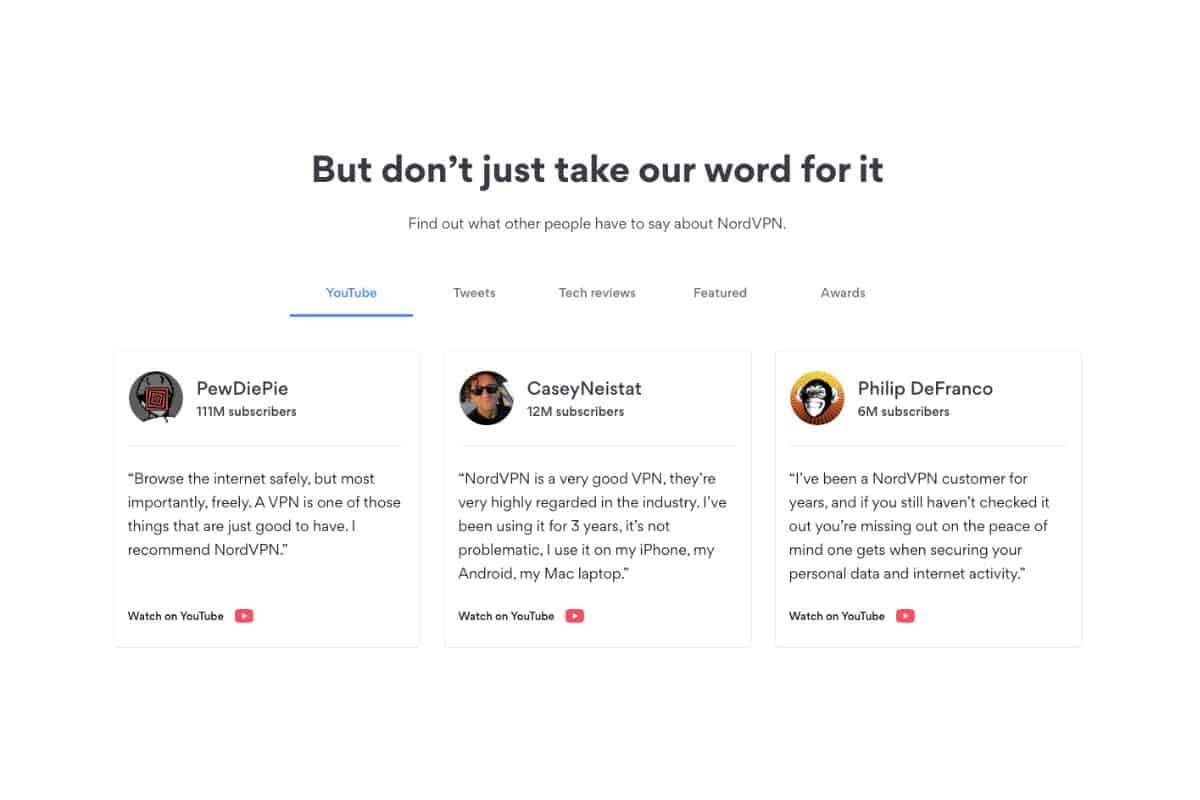 Customers are not always convinced by what a business claims to offer on its website.
NordVPN knows this and has smartly included a small "don't just take our word for it" section right on its homepage that showcases real testimonials from its users.
What NordVPN has done to set itself apart, however, is by incorporating tweets, tech reviews, and awards that can be clicked on in the same section – all endorsing the service as one that's safe, user-friendly, and dependable.
The fact that this VPN company has impressive testimonials from world-famous YouTubers such as PewDiePie, Casey Neistat, and Philip DeFranco, accompanied by their high subscriber numbers, only adds to the software's saleability.
The California-based CRM software giant Salesforce takes a different approach to its testimonials, using "stories" provided by customers, brands, news outlets, and more.
The page tagline is empowering and inspiring, referring to its customers as "Trailblazers who are succeeding", implying that it's because they are using Salesforce.
Salesforce has collected enough customer stories that these can be filtered on the page by industry, business type, business size, and the specific software product, allowing potential customers to see success stories that they can relate to.
What adds to this page's strong marketing influence is how Salesforce's partnership businesses, and their brand logos, are displayed – a simple but powerful design choice that evokes a real sense of the brand's success and popularity.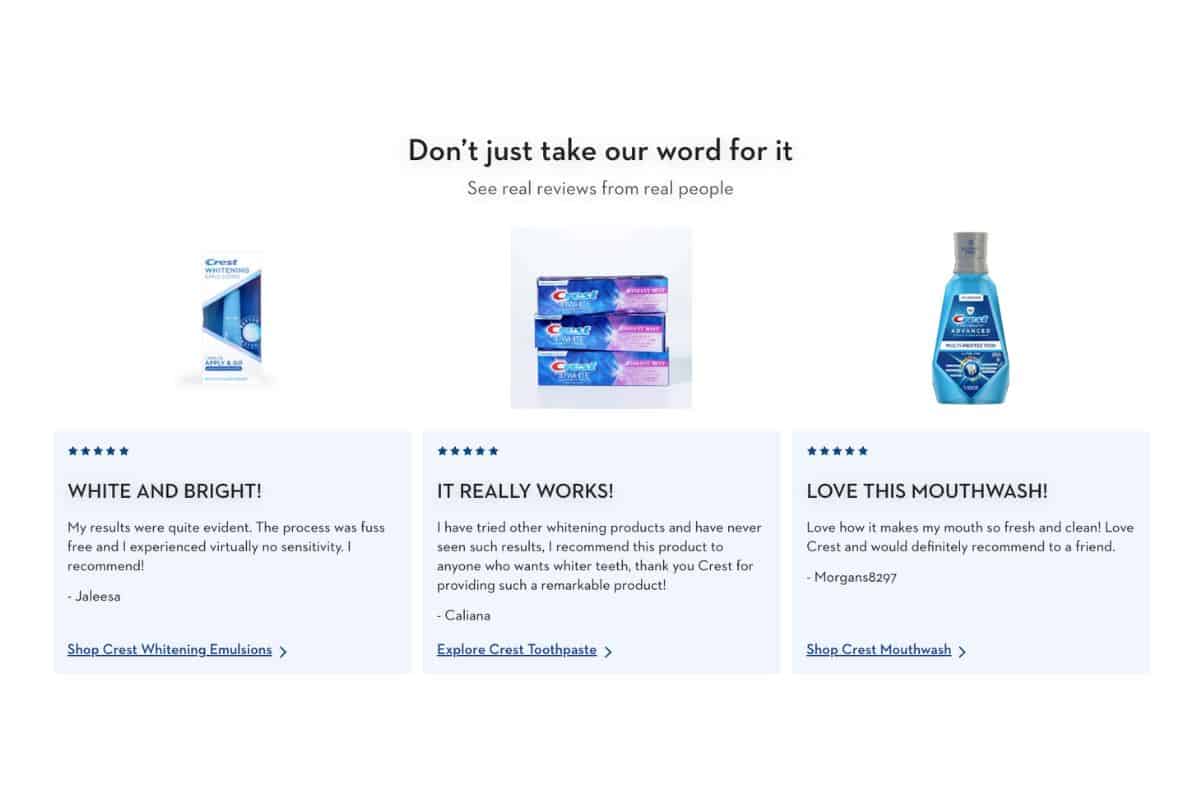 When you sell a range of dental products that need to deliver noticeable results, you have to back up the promises you make to customers.
Crest is no small-name business, yet that hasn't stopped them from including "real reviews from real people" directly on its homepage that offer a simple insight into the effectiveness of its products.
What's effective here is that Crest's testimonials include the product image, star rating, and customer name.
It's visually appealing and minimalistic, allowing customers to see the product, skim-read a short review, then shop for the product using the direct link provided. 
The titles of the customer testimonials and reviews are also short and effective, making use of convincing, industry-specific keywords and phrases such as "white and "bright" and "it really works", honing in on the key product points that customers want to hear.
Jack's Flight Club is a digital company that helps travelers find and book the cheapest flights on the market.
What started in 2016 has now become a one-million-strong member's club, which has also been widely covered by the media due to its quick success.
As a company that sells subscriptions, Jack's Flight Club's best marketing resource is the success stories of its members – and it uses them to full effect on its website.
The testimonials are detailed, interesting, and backed up by customer names and photos, boosting their persuasive influence.
Jack's Flight Club sells travel experiences, ultimately, so showcasing these real-life memorable and exciting experiences on its website is as inspiring as it gets for non-members who are on the fence about signing up.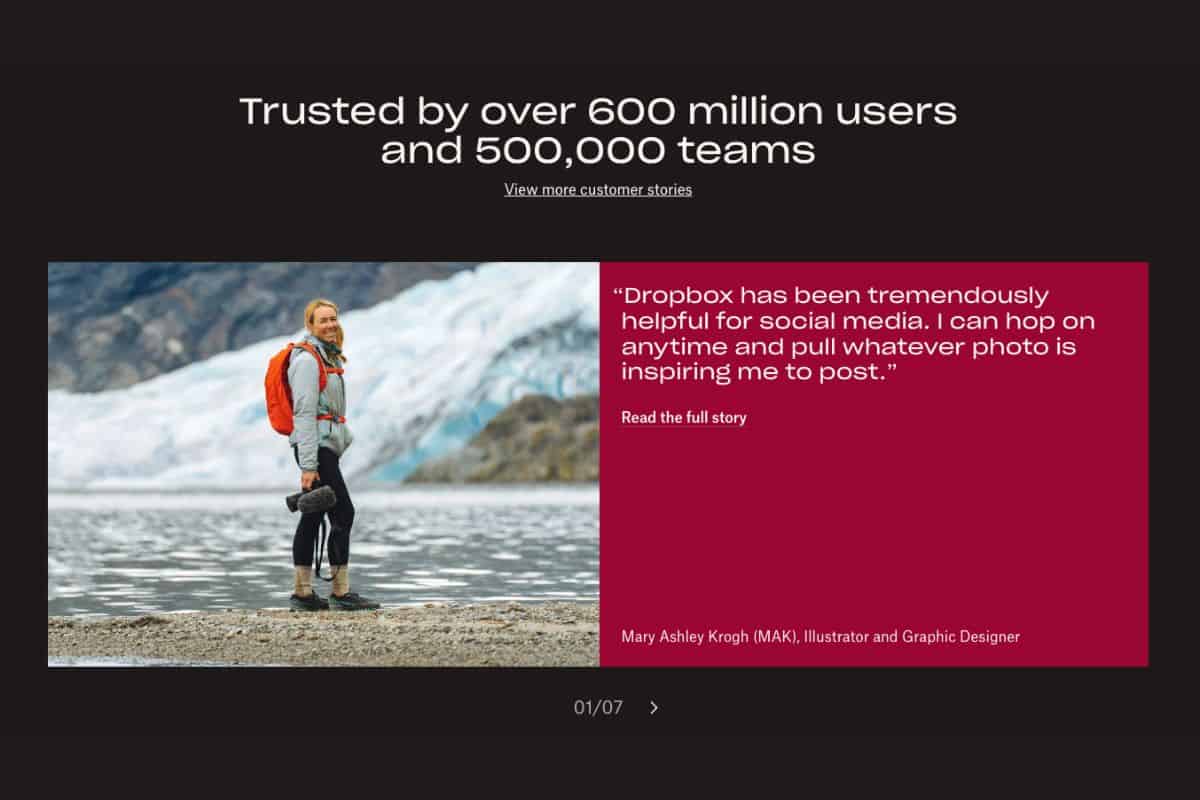 Right on its homepage, Dropbox—the popular cloud-based storage platform—sells itself as being "trusted by over 600 million users and 500,000 teams".
Customers quickly understand that this service isn't just used by individuals, but large companies.
But Dropbox doesn't leave it there; it provides a handful of insightful snapshots showing the success its users have achieved with the service.
Like some of the testimonial examples above, the customer's name is displayed along with the customer's profession and picture to increase credibility.
Website visitors can also click a link to "View more customer stories", presenting new customers with the option to check out more social proof of what Dropbox can do for them.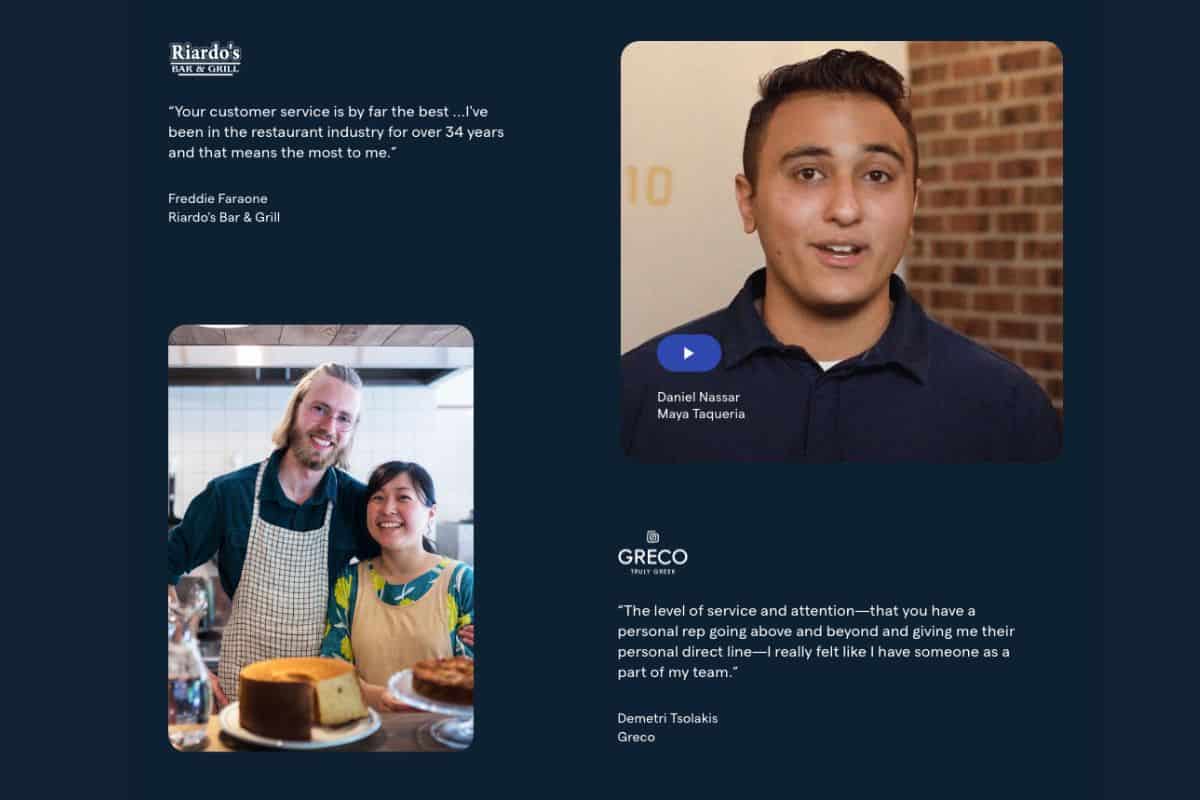 ChowNow connects restaurants with customers with its online food ordering system.
The company's main clientele is restaurant owners, which is why it has gone the distance to sell the benefits of its service using testimonials from big and small restaurateurs. 
The testimonials are short and to-the-point, using evocative keywords and phrases such as "the best" and "above and beyond".
Names, photos, and restaurant logos are provided for each testimonial, adding to their credibility.
In addition, some of the testimonials used on ChowNow's website are professionally shot video testimonials, giving customers, as well as restaurant owners, a real insight into the company's success and authority.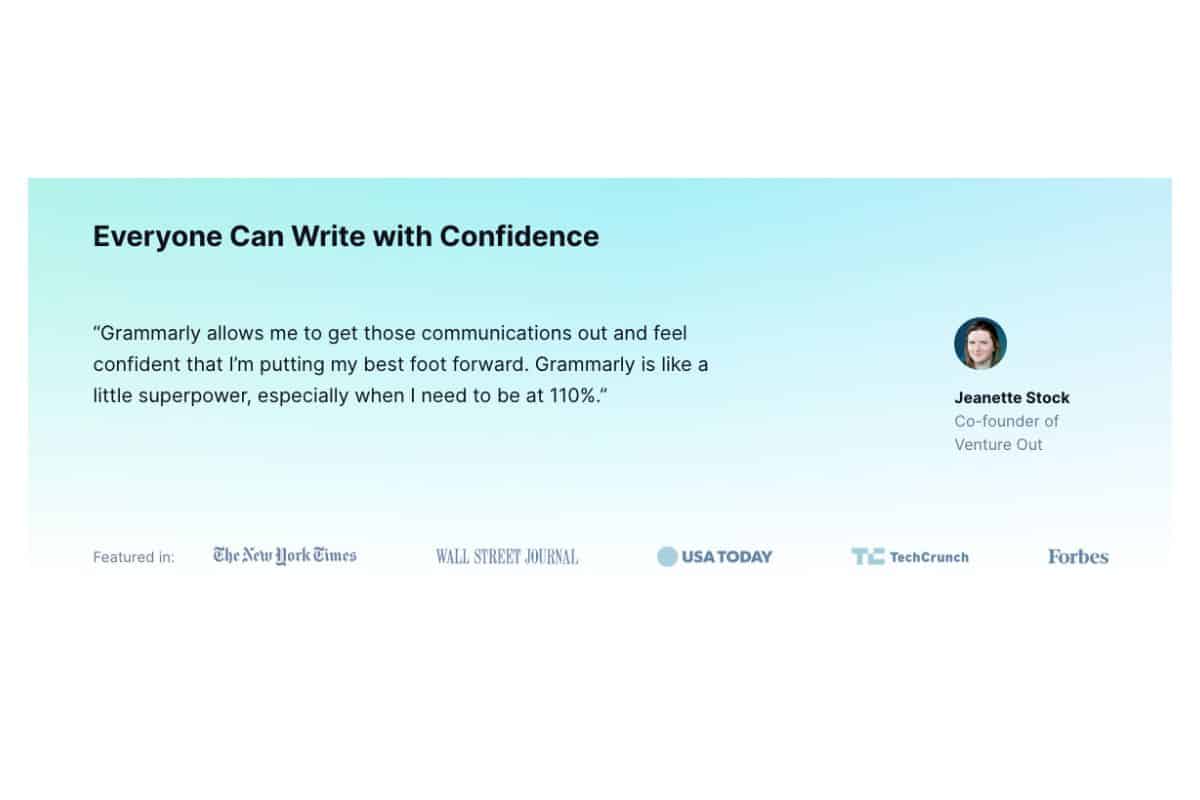 Grammarly is a software tool that helps professional writers across a range of industries, including journalists, copywriters, content creators, and novelists.
It describes its product on its homepage before backing up its claims with a testimonial section that's simple but effective.
What Grammarly has done well is that it's kept its testimonial section minimalistic yet with enough information that checks all the right boxes.
The tagline is strong and the testimonial itself is short yet empowering, provided by a named and photoed customer who is also a co-founder of a named company.
If the testimonial wasn't enough, Grammarly also flaunts where its software has been featured using the recognizable logos of several big-name media outlets, calling attention to the popularity and support the company has earned.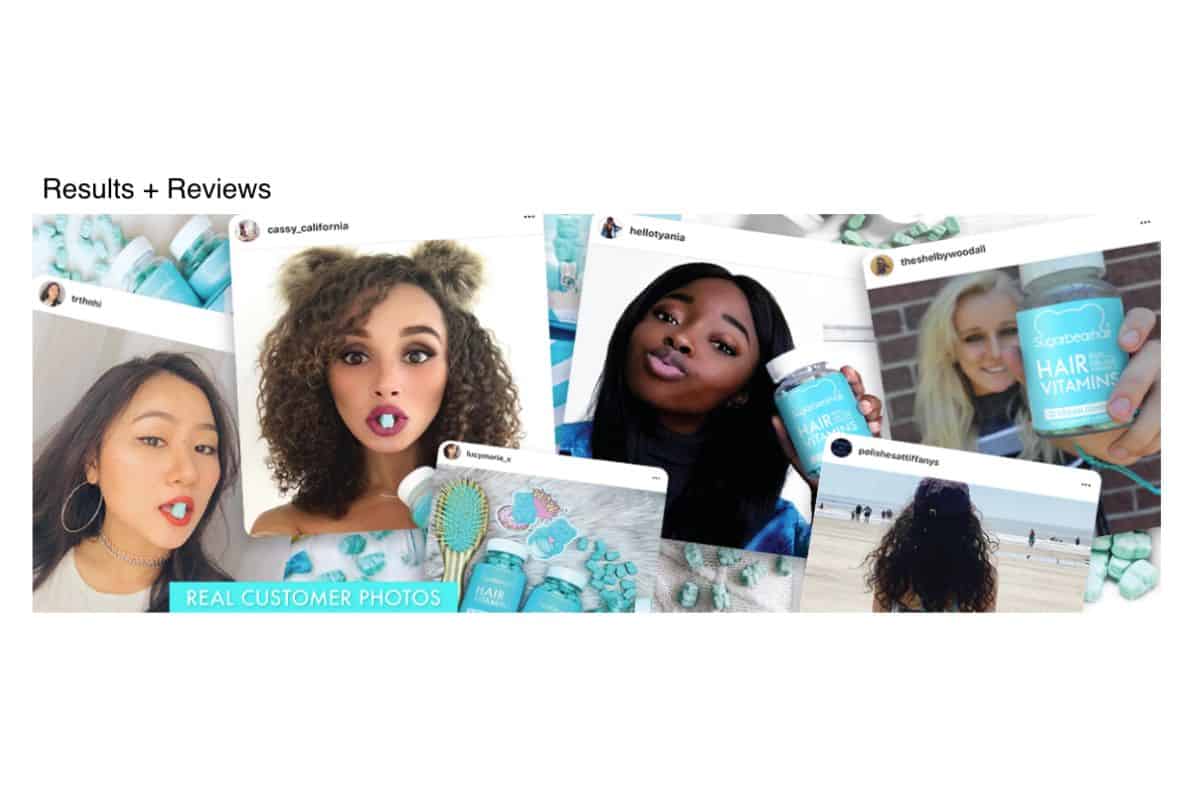 SugarBear is a supplement brand that essentially grew to worldwide recognition using its customers' social media endorsements as its most important marketing strategy.
It worked, as the US-based company now has millions of customers around the world and an impressive amount of media coverage.
This is a top-tier example of the viral, word-of-mouth marketing power that customers can generate for a business, especially when the business focuses on a single platform to collect customer testimonials.
This goes to prove that testimonials can also come from social media content, and even generate a strong and inspiring sense of customer relations between businesses and customers.
This kind of customer interaction can influence new customers to use a service.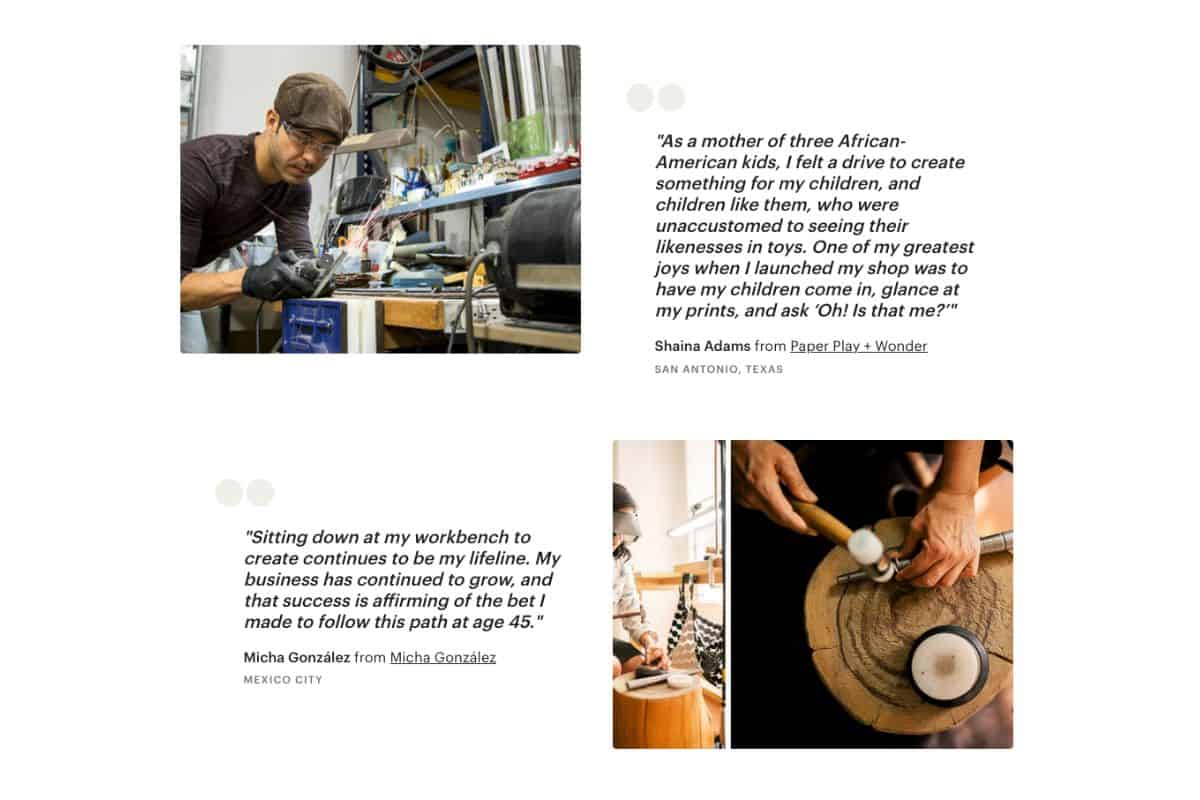 Etsy is one of the internet's largest marketplaces for creative artisans and independent sellers.
And to promote Etsy Plus, one of its subscription packages targeted at sellers, the website includes personal testimonials from successful sellers describing "how Etsy has made a difference for them".
Etsy leads into its customer testimonials with "don't [just] take our word for it" to offer support for its claims.
The testimonials are accompanied by the seller's name, seller's business, location, and photo, building legitimacy and believability around the great service it provides.
Needless to say, by reading the success of other sellers along with their personal endorsement, new sellers will be more likely to consider Etsy, as well as Etsy Plus, as the platform they need to grow their business.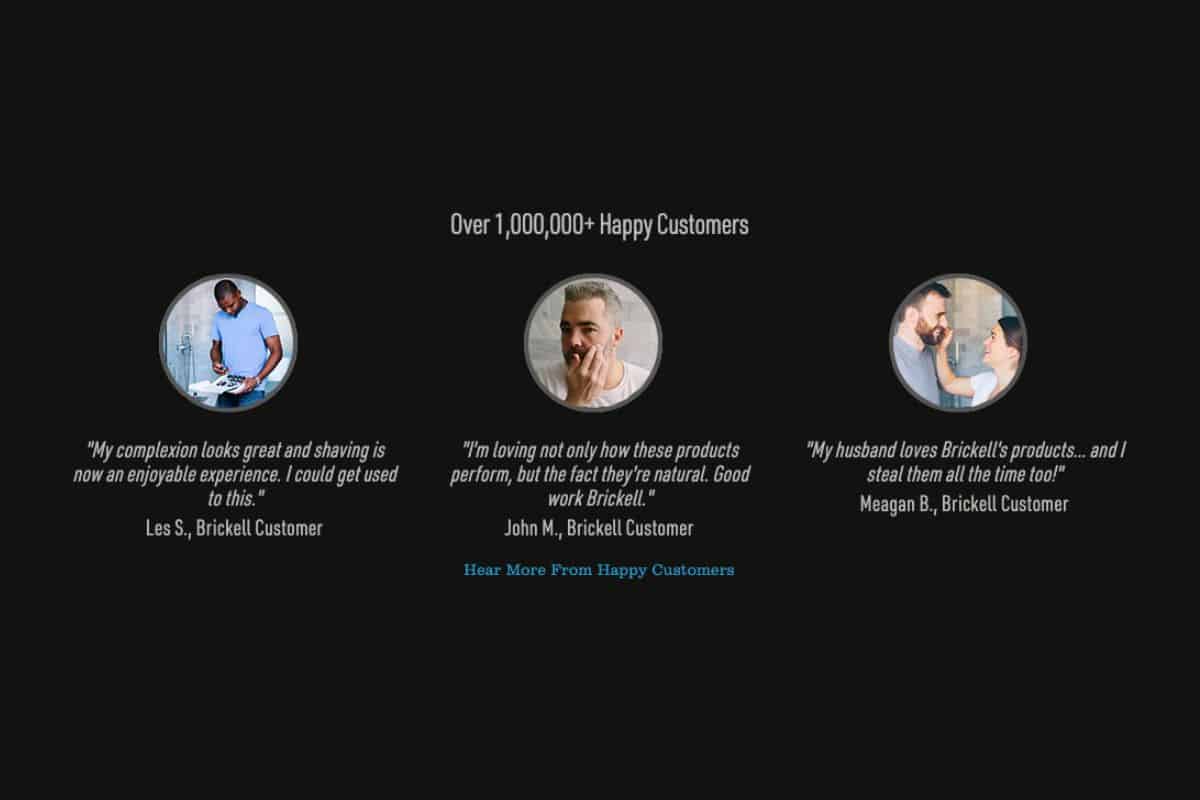 Brickell is a manufacturer of men's luxury self-care grooming products.
But no cosmetics brand finds success without customer endorsements, which Brickell has received in abundance.
On Brickell's homepage, you only have to scroll down a short way to see that the company claims to have "over 1,000,000+ happy customers".
And to help back that up, the section displays three highlighted testimonials from named and photoed customers, with more to read by clicking on "Hear More From Happy Customers".
The keyword Brickell has used is happy.
And the testimonials its website displays, plus the tens of thousands of high-rated customer reviews, offer more than enough to convince new customers that this company and its products deliver.
Social media management tool Hootsuite uses customer testimonials uniquely but very effectively.
As the homepage lists what the product can offer, each section offers a short testimonial that backs up each individual feature Hootsuite says it provides.
The testimonials list the customer's profession while directly linking the review from which the text was pulled.
While the customer's name isn't shown, the testimonials flaunt various industry professionals, by occupation, who have found success using Hootsuite.
Scrolling to the bottom of the homepage concludes the features and testimonials with "Loved by 18+ millions of the world's best social marketers".
And by having read the testimonials shown beforehand, the claim is made more believable for customers.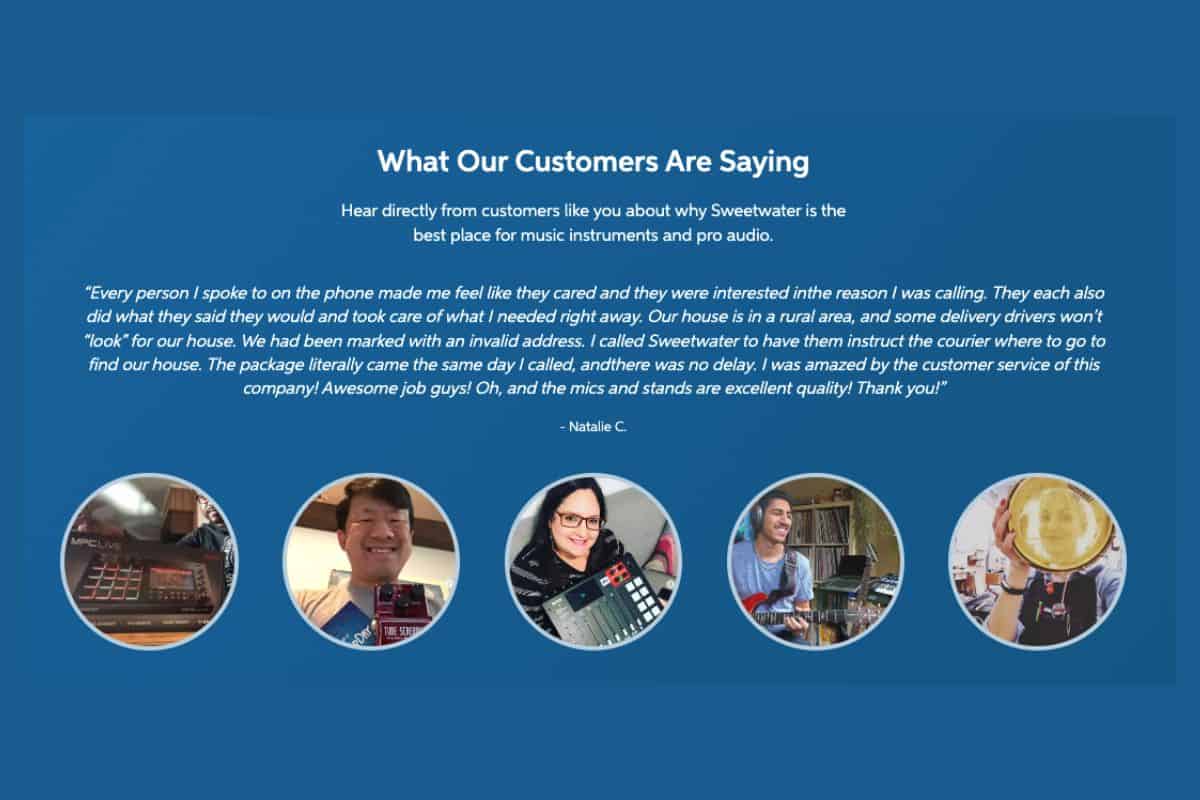 Sweetwater is the largest online music equipment store in the US.
Yet despite being an authoritative online retailer, it still provides a testimonial section on its website dedicated to "What Our Customers Are Saying".
Customers want to know what other customers think and Sweetwater fully capitalizes on this, making sure to provide browsing customers with detailed, informative testimonials from past customers.
What also works in Sweetwater's favor is how the photos display the customers enjoying their purchases – an evocative quality that sells the idea of the company's satisfactory customer service.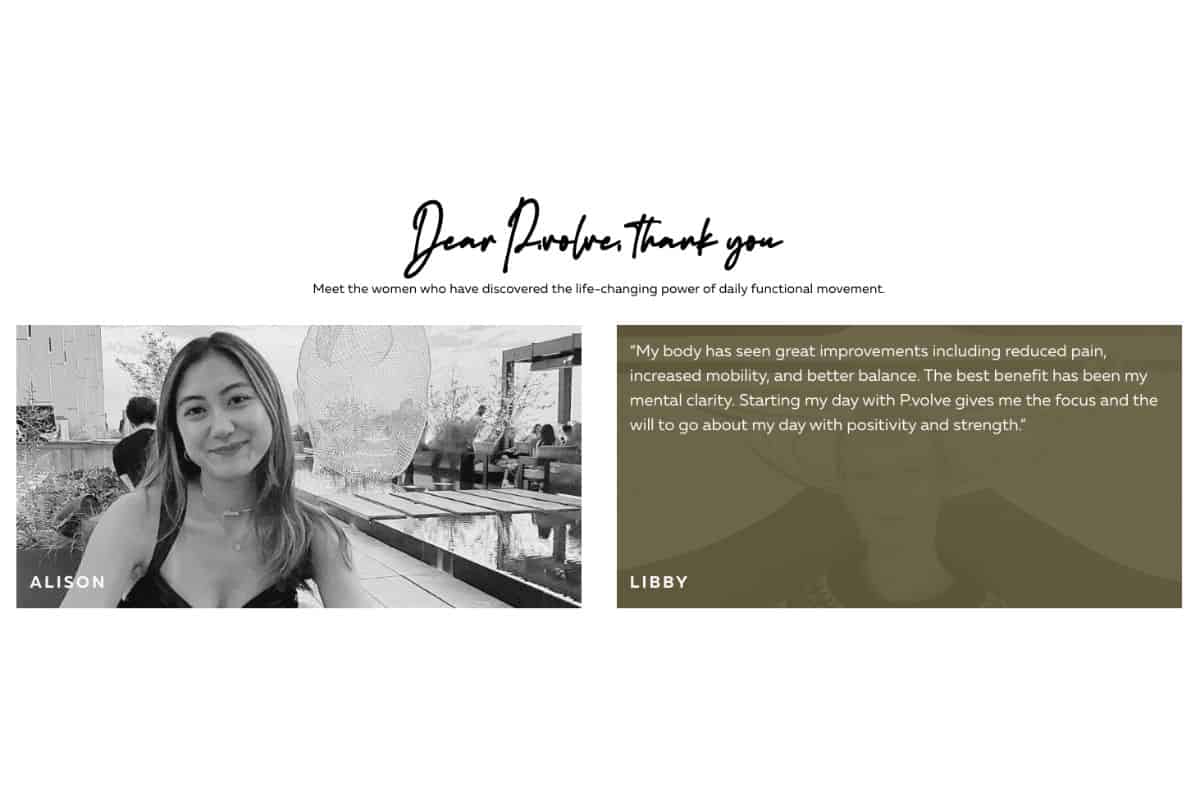 P.volve is a boutique fitness studio franchise founded in New York City.
And for those who are unsure about signing up its studio-based workout programs, P.volve inspires potential members by showcasing the body transformations and fitness results its members have achieved. 
In this case, P.volve's testimonials showcase real members and their transformation stories.
And by using candid photos of members who have provided their testimonials (instead of professional photos that can sometimes look like stock images), the testimonials offer an increased sense of believability. 
The testimonials on this website are also presented as "thank you letters" to the company – a unique approach that, in an industry selling self-improvement and physical transformation, works to this company's advantage.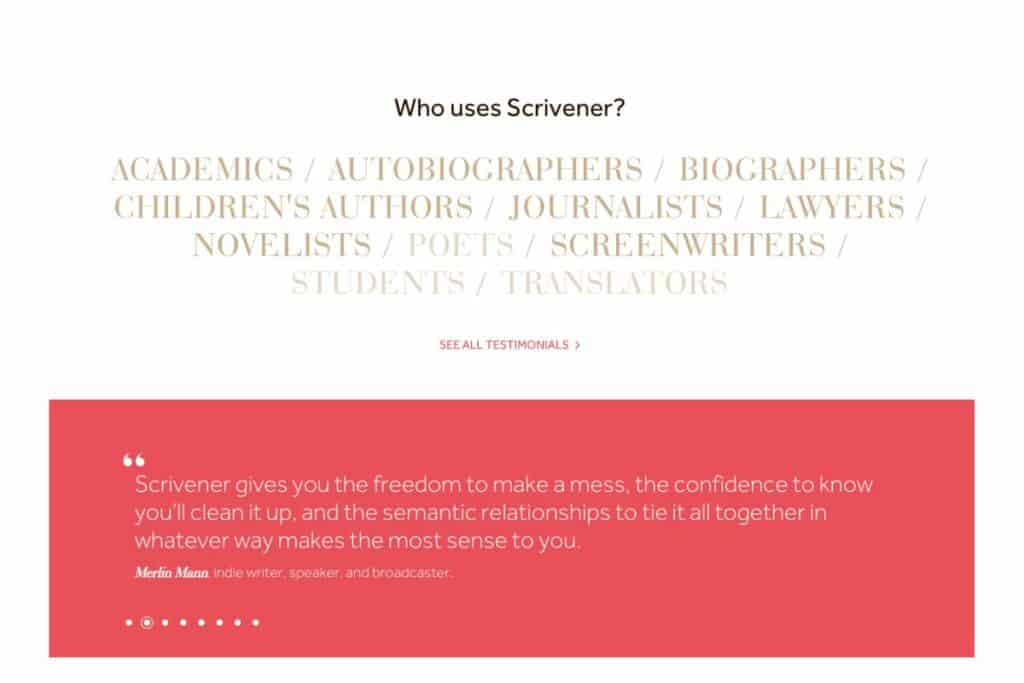 Scrivener is a program used for long-form content writing, including news articles, blogs, novels, and screenplays.
Like most software, customers want to know that it will solve their pain point and increase efficiency, so the company behind Scrivener has made sure to offer that reassurance on its website. 
As a preface, the company lists the professions of its user base ("Who uses Scrivener?"), calling to the target audience's desire to be part of an exclusive community – i.e. "professionals who use this product". 
The testimonials that come after, shown in reel format, cite the customer's name and professional background, with inspiring endorsements that not only sell the product's reliability, but the user experience it delivers on a personal level, which the target audience will relate to.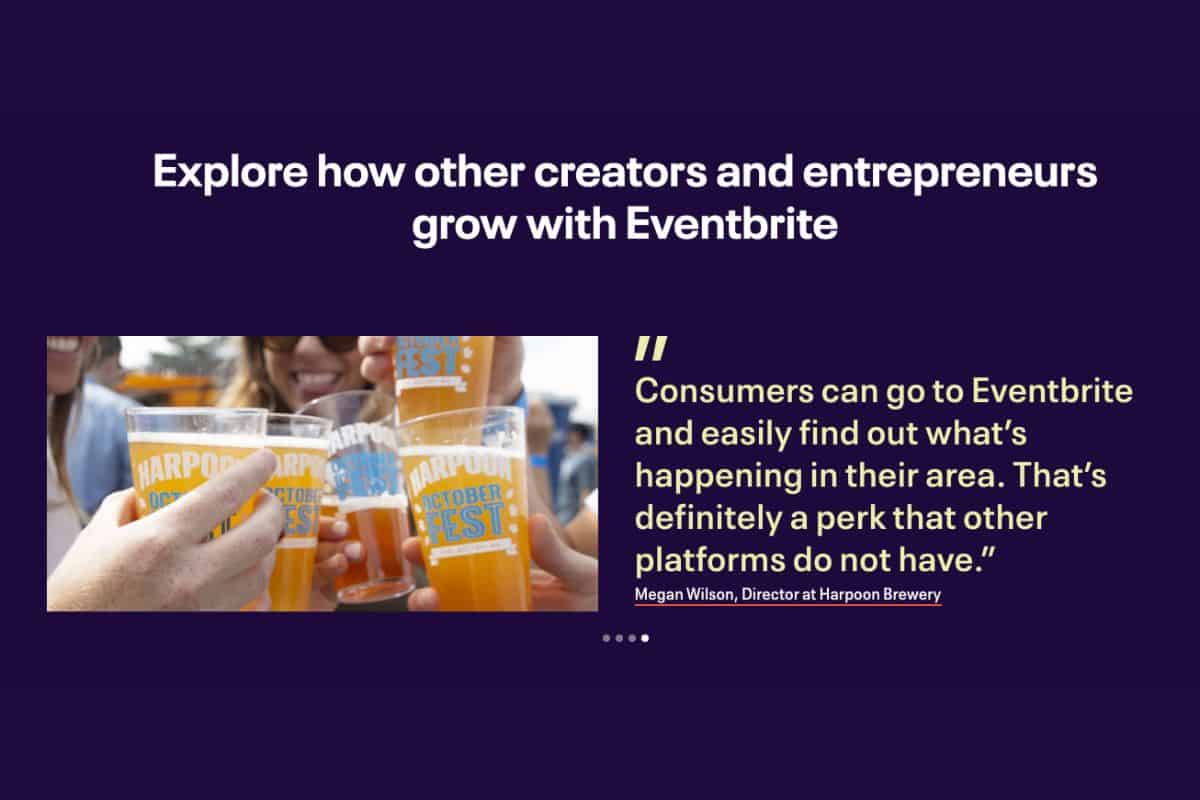 Eventbrite is a well-known online service that hosts, promotes, and sells ticketed events.
Its main clientele, event organizers, need to know one thing: whether Eventbrite can make their event a success. 
To inspire the confidence and trust its users are looking for, the homepage presents a looping reel of testimonials in large bold text, taglined by an inspiring one-line sentence that references how creators and entrepreneurs have "grown" (their careers) using Eventbrite.
Checking all the boxes as another good example of customer testimonials used correctly, Eventbrite accompanies each compelling testimonial with the customer's full name, professional occupation or business, and an evocative photo conveying the main goal of its clientele: a "successful" event.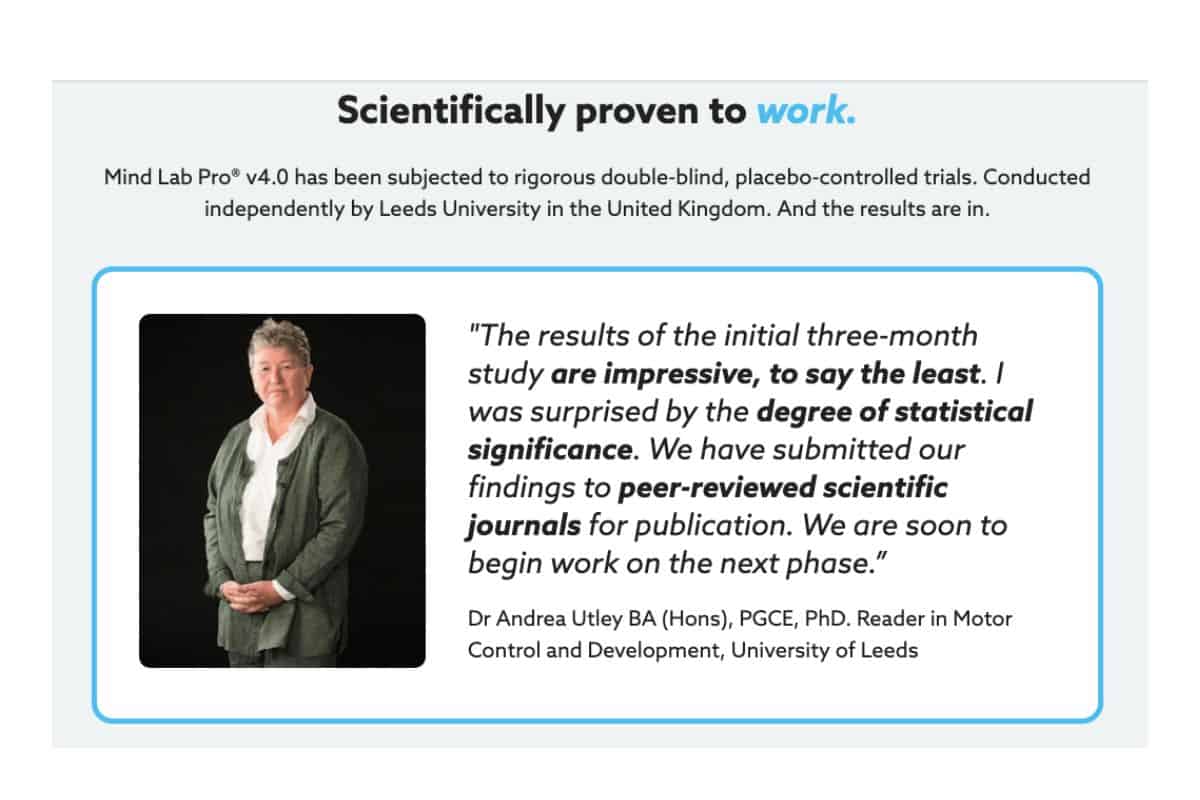 As a pharmaceutical brand selling nootropic supplements designed to "improve cognition", the company behind Mind Lab Pro cannot advertise its products without backing up its claims with scientific evidence and successful customer experiences.
On the website, the company makes use of both to full effect.
New customers who are unsure about the product's legitimacy will, right off the bat, see a stream of research-backed studies and testimonials from satisfied customers on Mind Lab Pro's homepage. 
In this example, the website combines professional testimonials from doctors and scientists as well as verified customer testimonials to endorse the product and the benefits the company claims it offers, while bringing attention to important details with text that's highlighted in bold.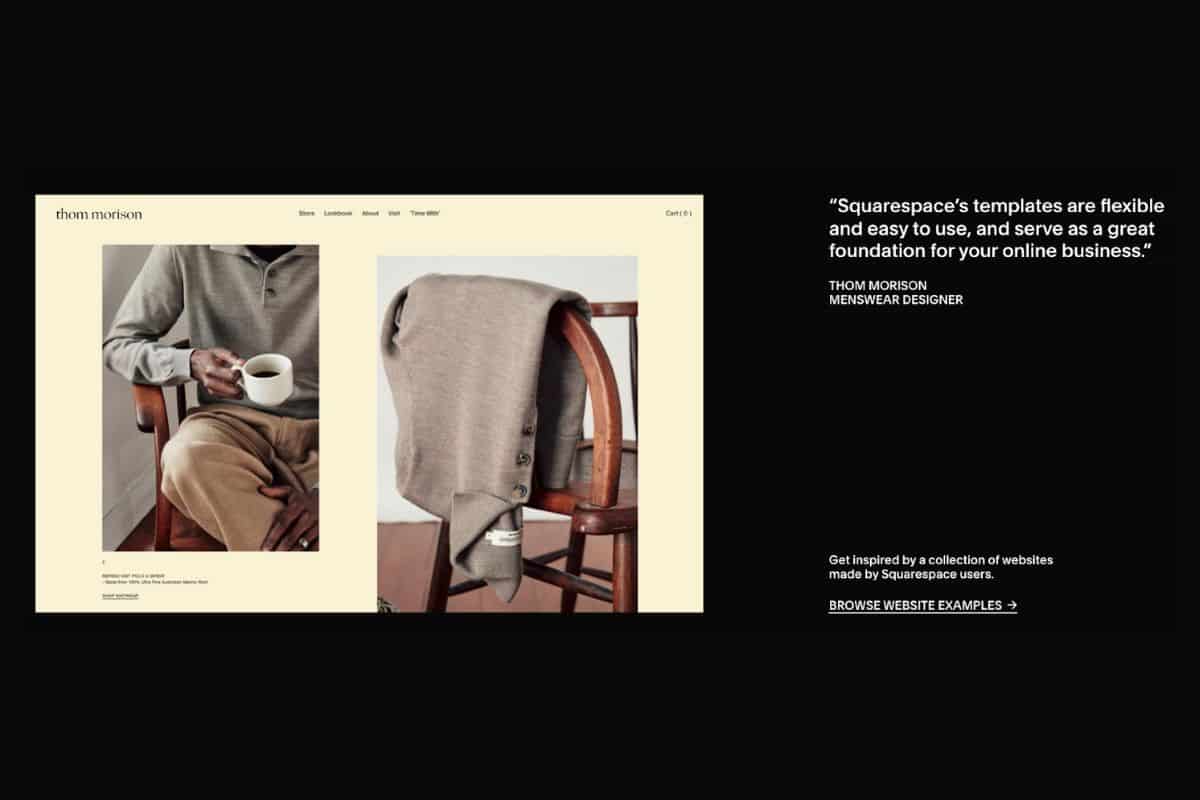 Squarespace is a popular platform for website creation and hosting, so it goes without saying that its website is professionally designed and visually appealing as a marketing strategy in itself!
On the homepage, website visitors are told—and shown—what Squarespace can bring to the table, followed by a small and simple testimonial section that serves as an example of Squarespace's capabilities. 
The testimonial sells Squarespace's service by showing the user's website, endorsement, full name, and profession.
But instead of overwhelming visitors with a list of testimonials, Squarespace provides a single effective testimonial to prove its point, with the option to browse more.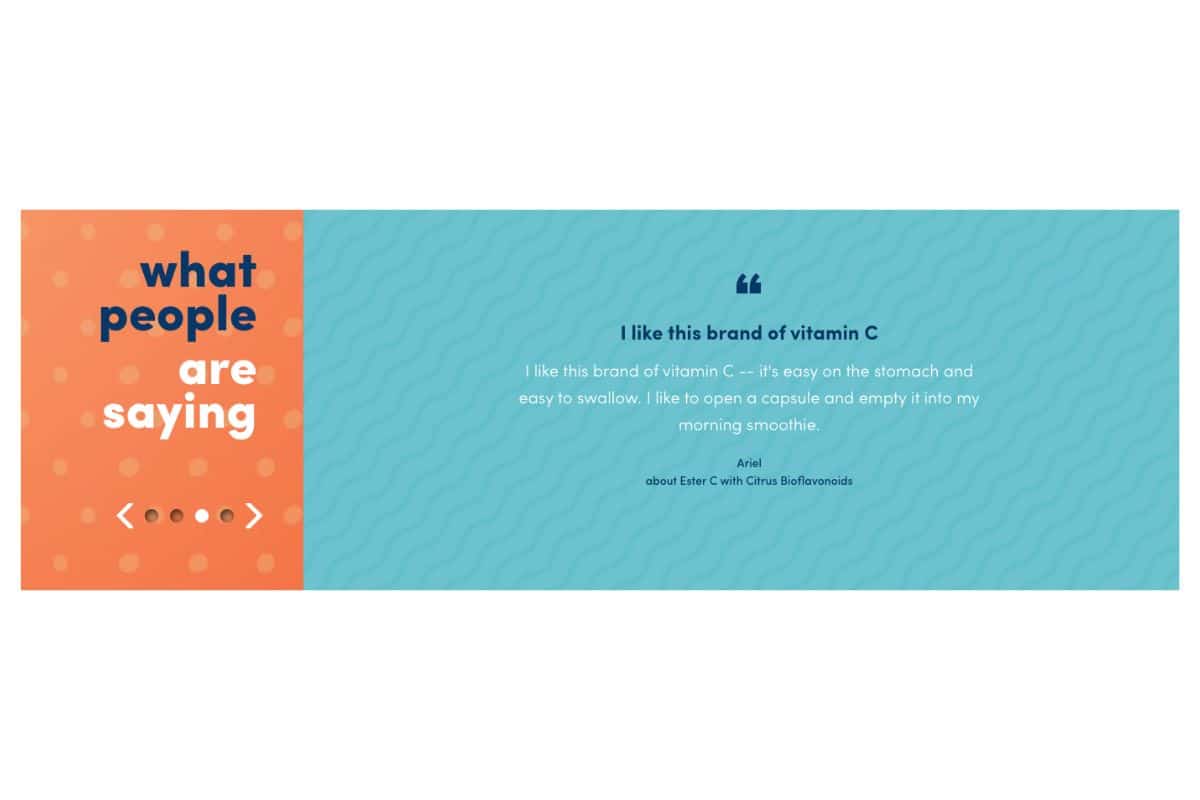 American Health US is a pharmaceutical retailer selling vitamins and supplements.
Much like Mind Lab Pro—one of the examples above—the nature of the industry demands convincing customers that the products work – requiring the kind of trust and confidence that customer testimonials provide.
After showing a few of its best-selling products, American Health follows with a section on "what people are saying".
The testimonial reel provides simple yet encouraging reviews from its customers, along with the customer's name and product bought to increase the legitimacy of each endorsement.
The testimonials on this website are not lengthy or excessively detailed, and instead focus on being readable, understandable, and indicative of two points: the products are effective and the customers are satisfied.
Why Customer Reviews Are Just As Important As Testimonials
It just makes sense for your business to support the claims it makes on its website.
Testimonials don't only generate trust and confidence in your customers, but a sense of close customer relations that new customers like to see.
Customer reviews offer the same kind of social proof your business needs to inspire trust and confidence in customers.
What's great about reviews, however, is that they positively affect SEO and also help your business grow its online reputation – across multiple websites.
Another advantage of customer reviews is how they can be showcased on your business's website, providing the same powerful benefits as customer testimonials.
And by getting more positive reviews, it even makes it much easier to ask for testimonials from the right customers.
Get More Reviews, Use Them As Testimonials
Requesting testimonials is easily done when you know which of your customers are the most satisfied.
Thankfully, getting more customer reviews is the best way to do this, offering your business an open door to what your customers are saying.
We understand that getting more reviews is easier said than done. But, the thing is, it really isn't when your business is using a fully automated tool like ReputationStacker.
ReputationStacker generates reviews from real customers who have used your business.
And by using ReputationStacker, you can even showcase your reviews on your website with easy-to-use widgets, doubling as powerful customer testimonials.
Frequently Asked Questions
How Do You Put Testimonials On A Website?
The best way to put customer testimonials on your website is to use them subtly.
While it might seem effective to showcase several testimonials on a dedicated website page, this can reduce the chance of your testimonials being seen.
To be most effective, customer testimonials should be featured as small sections across your homepage and product pages.
This ensures each page offers social proof of the good product or services your business claims to provide, with a greater chance of being seen.
How Do You Get Testimonials?
One of the most effective ways to get testimonials for your business is by looking for positive feedback from satisfied customers.
This good feedback offers the opportunity to contact the customer and politely ask for a testimonial that you can use on your website.
Getting more reviews is the best strategy for collecting feedback from customers.
Positive customer reviews can not only present an opportunity to ask for testimonials, but improve SEO, grow your online reputation, and be displayed on your website like testimonials.