Online reviews are a lot more valuable than you think (yes, even the bad ones). Here we detail exactly how to use online reviews to improve and grow your business.
The sun is shining, the birds are chirping and no one's being annoying yet today, so it's the perfect time to sit down and check out the newest Yelp reviews for your business. Let's say it's a garden gnome store.
Three new reviews are up:
"I love this place! The cashier who helped me on Thursday gave me a 20 percent discount just to be nice. They always go above and beyond."
"The selection here is terrible! I couldn't find any gnomes I wanted. I went to Norm's Gnome Hut afterward and they had twice as big a selection."
"Nice little store. I visited over the weekend and it was busy, but the employees were great. Bought a gnome for my mother. It's going to be awkward to wrap! The parking lot was really slippery, so be careful."
That's it, just a few sentences each. As a business owner or manager, you might choose one of a few approaches after reading those brief new posts:
Option one: Celebrate that two out of three reviews are positive, pat yourself on the back for running a business that most people like and get on with the business of selling garden gnomes.
Option two: Briefly celebrate that people like your business, then focus on the valuable insights these customers share. You might even make a to-do list:
Thursday shift - giving discounts?
Contact supplier about new selections
Look into gift wrap options
Talk to plow guy re: icy parking lot
Congratulate staff about good reviews
To an impartial reader, those few reviews are forgettable. But to you, they contain insights into how you can do better - and how you can outsell Norm's Gnome Hut.
The Scoop on Online Reviews
Paying attention to the online reviews you get is one of the easiest ways to grow your business. That's in part due to the fact that most of your customers use online reviews. They're reading what other people are saying and they're using that information to decide whether or not to use your business.
Recent research shows that's the case:
A staggering 97 percent of American consumers surveyed said that they read local online reviews (at least occasionally).
More than 8 in 10 people said that they trust online reviews as much as they trust personal recommendations from friends.
73 percent of people surveyed said that reading positive reviews makes them more likely to trust a business.
Translation: Both your customers and potential customers read your reviews when deciding whether or not to give you their business.
There's another piece to the online review puzzle, though. While most people are reading reviews, who's writing them?
The Authors of Your Fate
Of survey respondents, 68 percent said they had previously written reviews when asked to do so.
That's great news for business owners and managers. People tend to write reviews when they're upset about some perceived failing on the part of the business, right? Think about a time when you were treated rudely by a cashier, or were overcharged for a subpar product. You may have written a negative post yourself, or at least entertained the idea.
Your business and your employees aren't perfect, so people are going to continue to write negative posts. But a huge swath of your customer base is willing to write reviews too, and many of them are pleased with your business.
Your satisfied customers could be leading the charge, telling others about how great your company is and why they should do business with you. We know that most people trust the reviews they read online. If you don't get those satisfied customers writing reviews for you, you're leaving money on the table.
Making Reviews Work for You
Those gnomes won't sell themselves, and dealing with payroll and hiring and taxes probably means your plate is too full as it is. So asking your customers, one by one, to please write you a review is not going to work. Even if you had the time, putting customers on the spot is awkward for both of you.
Which leads us to the most efficient and easiest way to get a steady stream of reviews posted to sites like Yelp, Google, Angie's List and TripAdvisor. (The particular sites you'll want to target depends on your industry.)
Systemize the way you get reviews from your customers. With an automated system like ReputationStacker, you can put your time and energy into running your business, pleasing your customers and making improvements based on the insights you read in your reviews.
Meanwhile, ReputationStacker does the work of getting you those reviews. The system reaches out to your customers with a one-question survey, identifying your satisfied customers and sending them to the review site of your choice. It's a simple way to get consistent feedback and positive reviews.
ReputationStacker offers additional tools that help you build your business, like the option to automatically pull all your reviews into one dashboard, where you can access them easily.
The system also includes an easy-to-install widget that posts your best reviews to your own website and updates itself automatically, enticing potential new customers to come see what all the fuss is about.
Advantage: Yours
It's a competitive world. Setting yourself apart from other companies is critical to your success, but there's only so much time in the day.
Use an automated system like ReputationStacker to prompt your happy customers to write online reviews about your business.
It seems like a small thing, but reviews have a ripple effect. Turn that ripple into a wave of growth using ReputationStacker.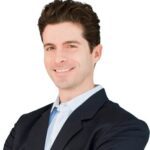 Ian Kirby has been working in digital marketing for over 15 years. Having worked both with and for digital marketing agencies and in-house with multiple companies, he has a specific interest and expertise in online reputation management, online reviews, and the implementation of business systems. Ian's writing, videos, and interviews have garnered millions of reads, views, and listens.