Facebook, the world's most popular social media platform, has over 2-billion active users per month.
As a non-eCommerce-related website, Facebook is the second most popular review site for local businesses behind Google.
For businesses, this makes Facebook a key area to focus on – not just as a business platform but as a high-traffic review site for getting more reviews and, as a result, driving more business.
Still, getting reviews is not an easy task.
And as one of the hardest struggles for businesses in the digital age, it's understandable to wonder what the best method is for how to request reviews on Facebook.
There are several ways to request Facebook reviews from customers and even more reasons that your business should strive to get more reviews on Facebook.
So, in this guide, find out the importance of Facebook reviews, how to request reviews on Facebook, and how to get more reviews in general.
Do Facebook Reviews Help SEO?
You would not be alone in wondering whether Facebook reviews help SEO or whether or not Facebook reviews are important at all.
The upfront answer is that Facebook reviews do not help SEO or improve your local search rankings on SERPs.
Despite that, Facebook reviews are more important than most people think.
Facebook reviews are often displayed on Google results pages when someone searches for a business. If the review shown is positive, it goes without saying that this has the potential to attract customers.
But the benefits of Facebook reviews do not stop there.
Facebook has revealed that positive star ratings will improve the chances of a business page (and its posts) appearing in Facebook news feeds, which can also draw consumers to your business.
So, aside from the popularity of Facebook and the general influence that positive reviews have (no matter which website they are on), getting more reviews on Facebook is a goal that your business should aim to achieve to improve its reach.
How To Request Reviews On Facebook
Facebook reviews (including its new system and Facebook recommendations) can build your business's credibility, authority, and online visibility. 
Unfortunately, Facebook has not made it easy for businesses to generate a review link for customers. And this is important for sending your customers directly to your review page to leave a review.
There are ways around this, but they are not convenient.
The first solution is to create your own direct link that directs customers to leave a Facebook review without being redirected to log in. If you are tech-savvy, you should not have a problem doing this.
The second solution is to simply link customers to your Facebook page, from which they can find your review section.
This is a more straightforward method but not as ideal since leaving a review should always be made as easy as possible for your customers. 
Either way, the link you choose to use is what you should include in all of your review requests.
Request Facebook Reviews Using Email
Email is the most common way businesses request reviews from customers. These are typically follow-up emails sent after a transaction or service.
In general, review request emails should be short, friendly, appreciative, and focused on the customer and how their opinion matters.
Emailing review requests to your customers can also be approached in several ways: they can be personalized, generated using templates, and/or automated.
However, using email to request Facebook reviews is not a perfect strategy.
It requires effort and time and is not always effective. Email requests can be disregarded if not worded effectively – or ignored altogether.
Request Facebook Reviews Using Messenger
Another way your business can request a review on Facebook is through Facebook Messenger, although this method is not without its disadvantages.
If a customer that you have provided a service for has followed or liked your Facebook Business page, this can be an opening to request a review.
But while this method is personal, which some customers will appreciate, it can also be viewed as intrusive.
In addition, similar to emailing customers to request reviews, requesting reviews using Facebook Messenger can be time-consuming.
This method also heavily relies on keeping track of which of your Facebook followers used your service.
Request Facebook Reviews In Person
Lastly, it is also possible to request a Facebook review in person.
If done this way, it should be a friendly encouragement expressed to customers after they have experienced your service.
As an example, you might have your employees say to your customers: "Thank you for choosing our business. If you have the time, we would really appreciate it if you left us a review on our Facebook page."
This is a short, non-intrusive way to request a Facebook review. However, like the above methods, it does not guarantee a review.
On the one hand, customers can easily forget your request since it is simply a verbal encouragement.
On the other hand, it requires that your customers search for your Facebook page or manually type in a link you have provided, which is not convenient for them.
How To Get Reviews On Facebook – The Best Method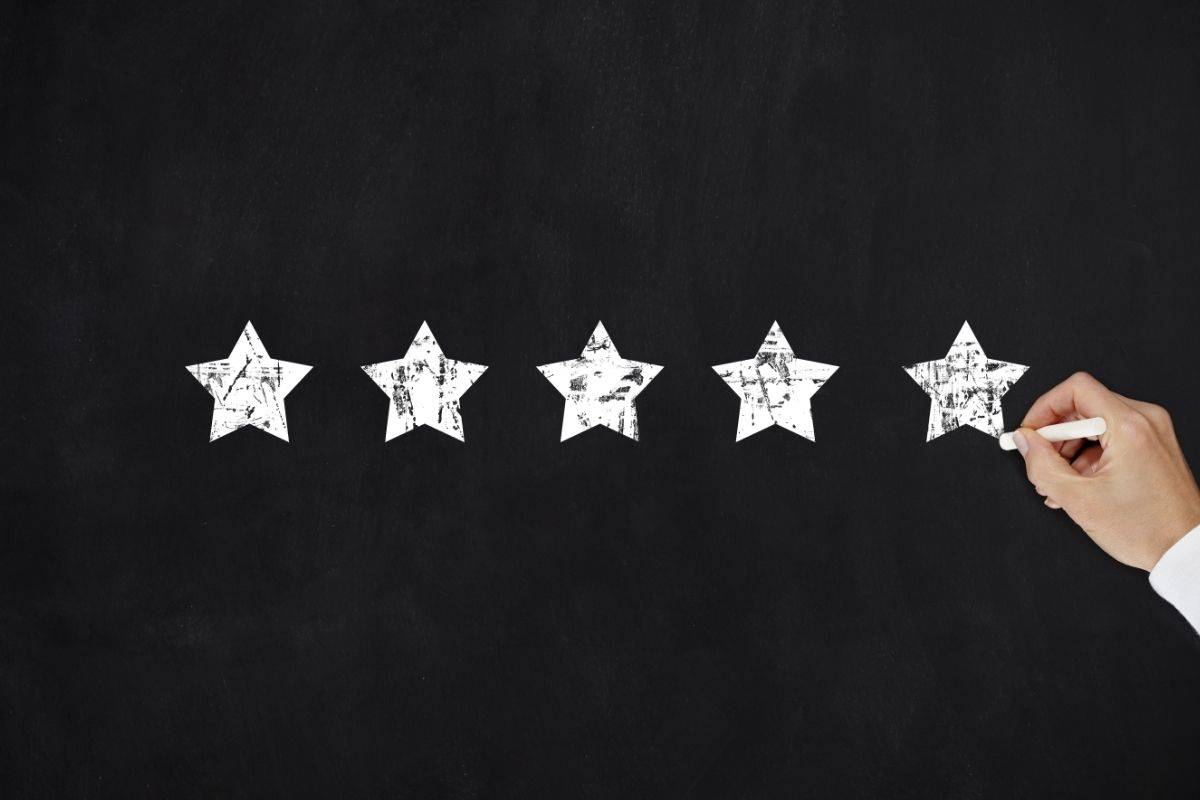 The above methods for requesting a Facebook review are commonly used by businesses.
Unfortunately, while they can work, they are not always effective – or even the most efficient ways to get more reviews.
There is also a key difference between requesting reviews and getting reviews: while review requests are simply requests that do not guarantee reviews, putting your focus on getting more reviews overall is a better focus – one that will almost always guarantee more reviews for your business.
And this is possible using a system that streamlines and automates the review process for your customers.
ReputationStacker simplifies the way customers leave reviews. It is a system that handles review requests efficiently and effectively to collect more customer reviews on the whole.
How? By encouraging your customers to share their opinion based on their experience.
ReputationStacker works by asking your customers a single question about their experience via text or email. Positive feedback directs them to a review of your choice.
Negative feedback notifies you so that you can take care of any issues privately before the customer leaves a negative review.
It might seem simple, but that's exactly what makes ReputationStacker the most effective method to get Facebook reviews – as well as Google reviews and Yelp reviews – for your business.