Do you promote your Google Business page as much as possible? Google is the leading review site on the internet, so it goes without saying that your business should actively strive to get more Google reviews.
One way you can promote your Google page is with Google review stickers. These "Review Us on Google" stickers are effective marketing materials that you can display in your storefront window, on your store counter, or on flyers and posters.
But if you're yet to take advantage of them, this guide explains how you get a "Review Us on Google" sticker for your business.
The following method is the easiest way to get professional, high-quality Google review stickers. It's also completely free.
Why Do You Need A "Review Us On Google" Sticker?
You might be wondering why your business needs a "Review Us on Google" sticker in the first place – or whether displaying these stickers is even worth it.
If so, here are the reasons you need to utilize Google review stickers as part of your marketing strategy.
They are an effective way to let your store customers know your business is on Google
They prompt new customers to write a review on Google should they make a purchase
They serve as a reminder for return customers to write a Google review for your business
They add a professional quality to your store or restaurant
They can be customized
They can include a QR code (more on this below)
It's worth repeating that Google is the most popular review platform. And by establishing a reputation on Google, you will improve your local search rankings, boost your visibility, and drive sales. To do this, you need to get reviews on Google.
How To Get A "Review Us On Google" Sticker
Google review stickers are free on Google Business Profile Marketing Kit. All you need to access these stickers, plus other free marketing materials, is a verified Google Business Profile.
If your business is already listed and verified, it's as simple as entering your business name on the Marketing Kit website and clicking "Put the best of your Business Profile on Display".
This will give you access to your Google business marketing kit, which contains a "Review Us on Google" sticker alongside other great marketing materials: posters, business cards, social media posts, and more.
A bonus—in addition to being free—is that these marketing materials can be customized. When you are happy with a design, simply download it to either post it online or print it to display at your place of business.
How To Create A QR Code For Google Reviews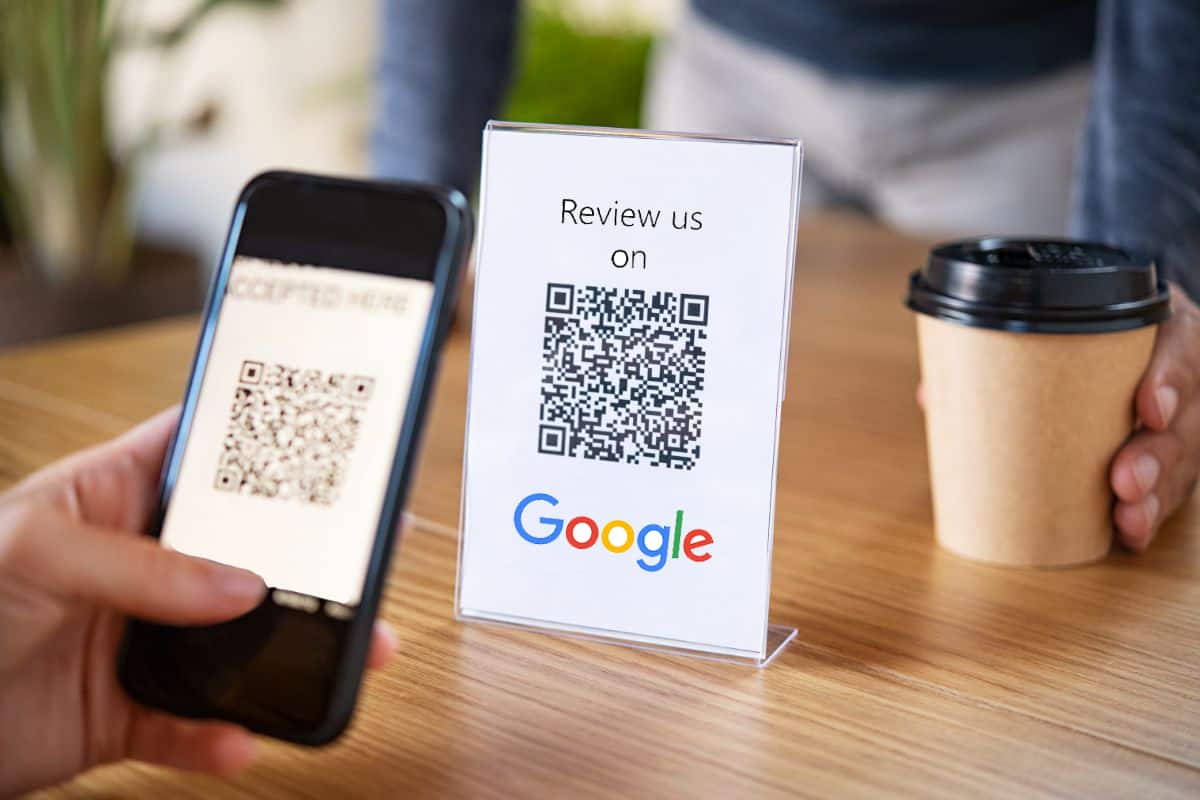 Letting customers know your business is on Google (using Google review stickers) will help your business to get Google reviews. But what's more effective is linking your customers directly to your Google Business page.
One drawback with "Review Us on Google" stickers displayed in-store is that it prompts customers to write a review, but doesn't tell them where or how.
QR codes offer a solution to this. Customers can use their phones to scan the QR code, which will send them directly to your Google Business page to write a review.
One way to get a QR code is to select the business card included in your personalized marketing kit. This is not a review sticker, as a result, but it does include a "Review Us on Google" message.
To create a Google review sticker with a QR code, however, you will need to do it manually. This involves pasting your Google reviews link (copied from your Google Business Profile) into a QR code generator. Free options include:
How To Customize Your Google Review Sticker
Customizing your "Review Us on Google" sticker is a great feature Google Business Profile Marketing Kit offers if you want to design your sticker to reflect your brand image or store.
There are many options for customizing your Google review stickers, and these include themes, colors, and patterns, as well as the message your sticker displays.
Lots to customize might sound overwhelming but, thankfully, Google Marketing Kit is user-friendly overall.
Even if you don't consider yourself tech-savvy, you'll have no problem creating professional Google review stickers and other eye-catching marketing materials.
Asking For A Google Review Is Still Important
Google review stickers are a great way to get Google reviews for your business.
Despite that, you still need to proactively ask for Google reviews, as it's a more effective strategy that will increase your chance to get more Google reviews.
Prompting your customers to write a review (using stickers and signs) won't always work – simply because it's a more general, and less personal, approach.
Stickers and signs also don't provide review site links (at least links that are conveniently clickable), which is another reason they won't always work to get customers to follow through with writing a review.
So requesting reviews from customers is essential for businesses. And as it turns out, 70% of customers will write a review if asked.
It's a long-term strategy, but the good news is that requesting reviews can be just as easy as using Google review stickers – as long as you take advantage of the tools at your disposal to help you request more Google reviews.
How To Ask for Google Reviews – The Most Effective Way
Asking for reviews involves creating and sending review request emails to all customers that use your business. Presentation is key, in addition to timing.
It can be hard work – especially if your business deals with hundreds of customers per month.
It just makes better sense to automate review requests. In fact, it's why we created ReputationStacker – a tool that automatically sends review requests to your customers for you.
ReputationStacker's powerful automation makes it easier than ever to get more reviews. And it even works for Facebook reviews, Yelp reviews, and more.
Get customers to your Google Business page with Google review stickers, but make sure you also request reviews from your customers—the most effective way—using ReputationStacker.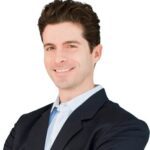 Ian Kirby has been working in digital marketing for over 15 years. Having worked both with and for digital marketing agencies and in-house with multiple companies, he has a specific interest and expertise in online reputation management, online reviews, and the implementation of business systems. Ian's writing, videos, and interviews have garnered millions of reads, views, and listens.