If you're a business owner, you will know how difficult it is to collect reviews from your customers.
There are a ton of review sites out there, so it's natural to consider which review site you should focus on to get the most out of your customers' reviews.
Of course, Facebook and Google—the internet's top review websites—both offer numerous benefits for establishing your online reputation and improving market reach.
But trying to collect customer reviews to establish an authoritative presence on both platforms is a difficult process, let alone a slow one - especially if your business doesn't have a plan of action.
To answer the question, it's important to take a look at the benefits of Facebook reviews and Google reviews, along with which of these review sites is more popular and which will give your business more reach.
The Benefits Of Facebook Reviews
Firstly, let's look at what Facebook reviews, also known as Facebook recommendations, bring to the table.
It's no secret that Facebook is the most popular social media platform, and since Business Pages were introduced (fun fact: Facebook Business Pages started in 2007), the social media giant has grown to become one of the most popular review sites on the internet.
With over three billion users, it doesn't have to be said that Facebook is a platform that businesses need to establish a presence on.
Any Facebook account holder can post reviews, as well as discover local businesses through search and promotion.
While Facebook reviews do not have any effect on search engine rankings, they will increase your business' visibility on Facebook.
The more positive Facebook reviews you have, the more Facebook will promote your Business Page in users' News Feeds.
Facebook reviews, and your overall rating on Facebook, can also appear on search engine results pages, which will increase the chances of customers organically clicking on your business.
The Benefits Of Google Reviews
Facebook may be the king of social media, but Google is the number one search engine used around the world.
And due to the sheer amount of traffic Google receives daily, it's by far the leading review site for businesses small and large.
Like Facebook, any account holder can post reviews. And since Gmail has almost two billion users, it goes without saying that this makes Google a prime target for businesses looking to get customer reviews.
Any Google search for a business or service will instantly display a business page (or a list of businesses) with a star rating and review count - called a review snippet.
This makes it vital to collect Google reviews as these not only make your business more clickable, but more SEO-friendly.
In fact, Google states on its support page that managing and responding to reviews will improve your local ranking.
So, the more positive Google reviews your business receives, the more it will outrank competitors when relevant search terms are typed into Google.
Lastly, Google reviews can also increase organic traffic to your website and social media pages, including Facebook.
As long as you provide the links, Google will display them under your Google Business Profile.
Which Is Better, Facebook Reviews Or Google Reviews?
As you can probably tell, it's hard to call. Both Google and Facebook are valuable review sites, each offering many advantages for improving your business' reach, visibility, traffic, and sales.
Despite that, it's worth mentioning that neither platform is without its disadvantages.
The disadvantage of Facebook reviews is that they have no impact on SEO.
The disadvantage of Google reviews, on the other hand, is that statistically there are fewer web users with a Google account (than a Facebook account), meaning businesses might have an easier time getting Facebook reviews.
Still, due to the amount of daily traffic Google receives as the go-to search engine for customers, it's arguable that Google has the upper hand.
So, are Google reviews better? Yes and no. Businesses might see improved results by focusing on getting Google reviews.
But it has to be said that the most ideal outcome is for businesses to have positive reviews across as many review sites as possible.
The Benefits Of Yelp Reviews
We can't talk about Facebook and Google without talking about Yelp - another major review site that has more than 140-million users per month.
In fact, Yelp is widely considered the most trustworthy review site - a result of its strict review guidelines.
Unlike Facebook reviews, Yelp reviews can improve your business' SEO visibility on Google.
In addition, Yelp users, or "Yelpers", are also considered to be "serious reviewers", which not only makes Yelp reviews more credible but, in some cases, more detailed, which can help customers' purchase decisions.
So, the advantages of Yelp reviews are that they are more trustworthy—less spam, fewer fake reviews—with the bonus of improving your business' search engine rankings.
Despite that, Yelp's big disadvantage is that it's simply not as popular as Facebook or Google.
Final Thoughts… And The Solution To Get More Reviews
Pros, cons, the best review sites, the worst review sites - it's confusing, needless to say, and downright frustrating if you're a business owner not knowing where to apply your time and effort.
The truth is, focusing on one review platform will not necessarily bring you more customer reviews.
Neither will requesting reviews, for any review site, using generic manual methods and strategies.
The solution? It's simpler than you might think, and it involves automating reviews using a streamlined customer review funnel.
ReputationStacker is the hands-off method for getting more reviews on Facebook, Google, Yelp, and more, so that you can apply your energy to what you'd rather be doing: running your business.
The bottom line is that you don't have to worry about which review site is better, as ReputationStacker allows you to choose the review sites it sends your customers to.
All you have to do is sit back and watch as ReputationStacker boosts your reputation on the review sites you want.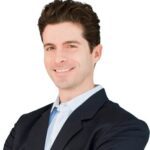 Ian Kirby has been working in digital marketing for over 15 years. Having worked both with and for digital marketing agencies and in-house with multiple companies, he has a specific interest and expertise in online reputation management, online reviews, and the implementation of business systems. Ian's writing, videos, and interviews have garnered millions of reads, views, and listens.